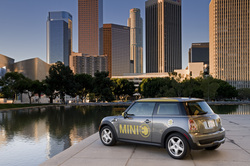 It's our utmost obligation to design the finest E.V. Cable and Electrical Charging Station Cable so we as a country are able to move forward with the US economic recovery, national energy security, and environmental sustainability, so that together we can preserve our planet.
Santa Fe Springs, CA (PRWEB) May 8, 2009
BMW, a German manufacturer of fine automobiles, found a US Manufacturer of Electrical wire and cable, Philatron, to power the new Electric MINI E. This discovery came by finding that Philatron has the most extensive UL listing for EV cable than any other wire and cable company in the world. The Electrical Vehicle market is on the rise, and Philatron is adept to offer extensive engineering assistance to auto manufacturers on this design. In fact, BMW's decision to partner with Philatron is due to extensive engineering design assistance, fast response, and quick production of the cable, which is manufactured in 3 ½ weeks (the fastest in the business). The electric MINI E is due to hit this summer, with 250 delivered to Los Angeles, and 200 on the east coast (New York and New Jersey). Philatron is also designing E.V. Cable to other vehicle manufacturers who are unable to disclose names at this time, and is in beginning negotiations to partner with Southern California Edison to supply cable for charging stations. This is due to President Obama's goal of 1 million plug-in vehicles on the road by 2015.
Philatron holds over 100 years of electrical engineering experience. The engineers work with manufacturers and specialized niche markets in designing the safest, most durable cable to withstand the toughest conditions, is ozone resistant, oil resistant, flame retardant, heat resistant, and will not break down after years of outdoor exposure.
Philatron is a reputable family owned business. November of 2008, Philatron received the Medium Sized Family Owned Business award presented by the Orange County Business Journal. CEO/Founder of Philatron, Phillip M. Ramos, Jr. states, "It's our utmost obligation to design the finest E.V. Cable and Electrical Charging Station Cable so we as a country are able to move forward with the US economic recovery, national energy security, and environmental sustainability, so that together we can preserve our planet." Visit our webpage at http://www.evcable.com/ - and also, our home page http://www.philatron.com
Contact
Angel Ramos
Philatron
562-802-2570 x 227
###