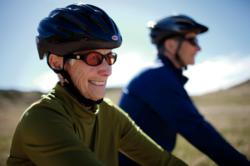 A continuing care retirement community offers the most flexibility for those looking for the best retirement options.
Chicago, IL (PRWEB) October 13, 2011
The CCRC, or continuing care community like Vi, offers the most flexibility for those looking for the best retirement options, according to recent comments by Dr. Edward Schneider M.D., a professor of gerontology, medicine and biological sciences at the University of Southern California.
Schneider made his comments at "VitalKnowledge," an online resource on independent living sponsored by Vi.
"CCRCs contain independent living areas, assisted living and skilled nursing facility in one seamless package," Schneider said. "You can have as little or as much help as you ever need."
Take the case of Randy and Phoebe, who had enjoyed 14 years in Vail, CO. When it was time to start looking at their options for the next stage of their lives, the most important thing to them was the availability of on-site care.
What they found was so much more at Vi at Highlands Ranch, a CCRC outside Denver.
"We can't say it too often how happy we are here," Phoebe said. "It's one of the best moves we've ever made."
CCRCs offer independent living with a combination of a private residence, services, amenities and care (for example, assisted living, memory support care and skilled nursing care).
"The services ease our time so much," Randy said of his experience at a Vi CCRC. "It's nice looking out the window to see everything done so well."
Phoebe added, "We aren't lacking for programs. We pick and choose because there is so much to do here."
Another individual, Mieke, is having pretty much the same experience at TidePointe, a Vi community in Hilton Head, SC, the CCRC where she and her husband Hendrik have chosen to enjoy their retirement years.
One of Mieke's greatest passions is playing the piano. She practices two to three hours each afternoon and recently teamed up with an English singer friend at a piano recital for her neighbors and friends at the community.
Mieke's busy life doesn't stop there. She plays tennis three or four times a week with a group who trains and plays Interclub and USTA. When she isn't playing tennis, she swims. In the afternoon, she enjoys tea with her husband, Hendrik, before joining friends for dinner and perhaps a night at the symphony.
"There are people who after each move keep pining for the place they just left," Mieke said. "That will make you unhappy. Figure out what you expect from your new life and then go for it. Focus on what lies ahead. You can choose to live a good life."
Vi, formerly Classic Residence by Hyatt, was founded in 1987 as a developer, owner and operator of older adult living communities. The company is dedicated to enriching the lives of older adults by providing high quality environments, services and care. Vi currently operates ten continuing care retirement communities (CCRCs) and nine rental communities under a family of brands nationwide. For more information about Vi communities, visit http://www.ViLiving.com.
# # #