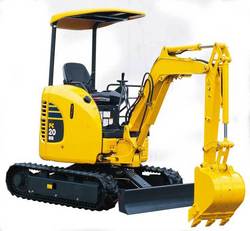 Construction companies, general contractors and subcontractors, and other interested parties are encouraged to attend our heavy equipment auction
Phoenix, AZ (PRWEB) April 17, 2009
Heavy equipment will be available to the public at Auction Systems Auctioneers & Appraisers, Inc. Arizona warehouse in Phoenix next Wednesday, April 22, 2009.
"Construction companies, general contractors and subcontractors, and other interested parties are encouraged to attend our heavy equipment auction," said Deb Weidenhamer, CEO of Auction Systems. "If you're looking for good prices on things like forklifts, excavators, flatbeds or propane trucks for your business, you will definitely find them at Auction Systems."
On Wednesday, April 22, 2009, the auction will begin at 10:00 A.M. MST at the new Auction Systems Auctioneers & Appraisers, Inc. location: 951 West Watkins in Phoenix, AZ, 85007. All of the items listed in the auction may be previewed and inspected by interested bidders on Tuesday, April 21, 2009 from 10:00 A.M. to 2:00 P.M. and on auction day, Wednesday, April 22, 2009 from 9:00 A.M. to 10:00 A.M., one hour prior to the auction. For more information visit Auction System's Phoenix Auction Schedule
Some of the items available at Auction Systems' heavy equipment auction will be:

Dump Trucks
Kubota Excavators
Propane Trucks
Forklifts
Cabs
Flatbed Trucks
Bobcat Excavator
Additionally, auction-goers will have a chance to tour Auction Systems Auctioneers & Appraisers, Inc. new location during an Open House. On Friday, May 1, 2009, Auction Systems will open the doors to their new 112,000 square-foot, state of the art auction complex located at 951 West Watkins Street in Phoenix, Arizona 85007, off Interstate 17 and 7th Avenue. This new facility provides auction-goers with greater service and more amenities like climate control, 3+ acres of parking, easy access, ability to preview cars, boats and recreational vehicles indoors and a children's auctiontainment center.
About Auction Systems Auctioneers & Appraisers, Inc.
Auction Systems Auctioneers & Appraisers, Inc. is the Southwest's most active auction and appraisal company. Auction Systems features live and live simulcast auctions and appraisals of stolen and confiscated Police and personal product including cars, tools, electronics, jewelry, sporting, coins and surplus, as well as auctions of commercial and heavy equipment, real estate, antiques, guns, estate and business liquidation and bankruptcy.
Based in Phoenix, Arizona and an INC. 500 company, Auction Systems is one of the fastest growing privately held companies within the United States. Additionally, Auction Systems is an ICIC INC. 100 company and is ranked as the #1 fastest growing woman-owned business and the fifteenth fastest growing business overall within the inner cities of the United States. Auction Systems Auctioneers & Appraisers, Inc. can be found on the web at auctionANDappraise.com
###