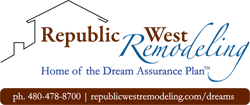 Ongoing communication with the homeowner has allowed us to stay within budget and schedule...
Scottsdale, AZ (PRWEB) June 19, 2012
Phoenix home remodeling company, Republic West Remodeling, announced it is half-way through a complex home remodeling project. The entire project is scheduled to last eight weeks with a budget exceeding $120,000.
Purchasing the home three months ago, the homeowner immediately began planning a complete upgrade. The new design needed to reflect the homeowner's unique and artistic tastes. In addition, the home is being designed around ease of accessibility. New features include an outdoor patio and many addition upgrades to match homeowner tastes.
"What makes this remodel unique is the willingness and effort to adjust the project at each phase, in many cases revising the design and changing what the customer would like on a step by step basis," said Jim Weisman, owner of Republic West Remodeling, a leading Phoenix home remodeling company. "The ability to meet these demands and still control time and cost is extremely difficult to do, but necessary to make sure we deliver what our customer wants.
"Ongoing communication with the homeowner has allowed us to stay within budget and schedule," continued Weisman. "Although it's been a challenge to plan ahead, our construction team remains on target as adjustments are made."
Because the design direction is not fully established, Republic West Remodeling must adjust the project scope on a regular basis. The home currently contains a large number of expensive furnishings. The company must protect and move these furnishings to accomplish project tasks. In addition, Republic West Remodeling coordinates with the homeowner's fixture, furnishing, painting and media center vendors to ensure the project is delivered within schedule.
For more information on Republic West Remodeling, visit http://www.republicwestremodeling.com.
About Republic West Remodeling
Republic West Remodeling is a leading specialist of home improvement in Phoenix, offers the highest quality home remodeling services including kitchens, bathrooms, room additions and outdoor living spaces. Jim Weisman founded the company in 2011 after co-founding Republic West in 1995. The belief from the beginning was that ethical standards, honest communication, quality work performed by company employees and a low key education and design driven sales approach was what the customer yearned for.
Republic West Remodeling is an operationally driven company that utilizes various disciplines, processes and procedures to help insure that it can deliver what is promised and is careful to only promise what it can control.
Learn more about Republic West Remodeling's home remodeling services in Arizona and the Phoenix Metro area by visiting the company's website.
###