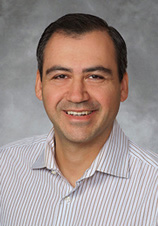 Spine Treatment Centers of America is fortunate to work with Dr. John Ehteshami and Dr. Abram Burgher in Phoenix, Arizona.
Phoenix, AZ (PRWEB) March 09, 2013
Spine Treatment Centers of America (Spine Treatment Centers), Dr. Abram Burgher and Dr. John Ehteshami are teaming up to help people with chronic neck and back pain in the Phoenix / Scottsdale region.
The spine experts will perform advanced interventional pain management and minimally invasive spine surgery at Freedom Pain Hospital in Scottsdale. Freedom Pain Hospital is the only hospital in the country whose sole mission is the diagnosis and treatment of chronic pain.
Spine Treatment Centers works in partnership with leading specialists in interventional pain management, neurosurgery and orthopedic spine surgery to offer comprehensive diagnostics, treatment plans and minimally invasive surgical solutions for cervical, thoracic and lumbar spine conditions such as herniated discs, sciatica and spinal stenosis.
Abram Burgher, M.D. is a board-certified pain management specialist in the Phoenix area, where he focuses on treating patients with chronic pain from conditions including spinal stenosis and degenerative disc disease. Dedicated to the advancement of pain management techniques, Dr. Burgher is a clinical investigator, and vice president for clinical innovations at a medical technology-focused firm that he co-founded.
Dr. Burgher's stellar medical education includes a medical degree with Alpha Omega Alpha honors from the University of Minnesota Medical School, and an internship, residency and fellowship at the prestigious Mayo Clinic in Rochester, MN.
John Ehteshami, M.D. is a board-certified orthopedic spine surgeon in Scottsdale, AZ. Dr. Ehteshami specializes in surgical procedures for the treatment of pathologies in the spine utilizing minimally invasive surgery techniques, cervical disc replacement and fusion techniques. He treats conditions including cervical stenosis, herniated discs and failed back surgery syndrome.
Dr. Ehteshami's pursued his medical training at the top orthopedic medical programs in the country. Following a year of research in the biomechanics of spinal implants and a second year of research in trauma surgery at the Department of Trauma Surgery at the University of Vienna, in Austria, Dr. Ehteshami attended a medical program ranked in the top twenty orthopedic programs in the country, at the Thomas Jefferson University in Philadelphia, PA.
Dr. Ehteshami's training continued with an Internship in General Surgery at Mt. Sinai Medical Center in New York, which is consistently the number one orthopedic program by US News & World Report ranking. He subsequently completed a spine and scoliosis surgery fellowship at Rush University Medical Center in Chicago, considered one of the ten best orthopedic programs in the country.
Both spine experts are highly published, and are dedicated to staying on top of the best innovations in minimally invasive spine treatments.
"Spine Treatment Centers of America is fortunate to work with such highly qualified experts in the field of neck and back pain treatment," said Sam Bailey, Ph.D., chairman of Spine Treatment Centers of America.
About Spine Treatment Centers of America
Using the exclusive SpinePath™ process, Spine Treatment Centers of America provides neck and back pain sufferers with today's most innovative spine care options. The SpinePath™ process guides the physician, working together with the patient, to formulate a customized treatment plan starting with the most conservative treatment that has the greatest chance of success.
Each patient receives a highly customized treatment plan, and will be assigned a professional Patient Advocate for guidance through the process from start to finish.
Spine Treatment Centers specializes in SpinePath™ minimally invasive spine surgical techniques to perform a wide range of diagnostic and corrective procedures performed by a leading spine expert in a state-of-the-art surgical facility. Minimally invasive surgery has been shown to provide equivalent or better outcomes than open procedures, while reducing the cost, time and complications typically associated with spine surgery.
Spine Treatment Centers is headquartered in Dallas. It has locations in Phoenix, Houston, Austin, San Antonio, Nashville, New Orleans, Hackensack and New York City and is expanding nationwide.
For more information about the advanced SpinePath™ approach for neck and back pain, or to learn more about our spine experts, contact Spine Treatment Centers of America at (855) 831-4153 or visit spinetreatmentcenters.com.