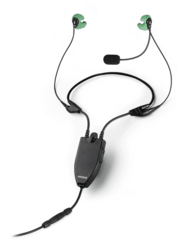 FreeCom's electronic noise-leveling system is as effective as the best ANR systems and nicer to the ear.
(PRWEB) March 26, 2013
In recent weeks, several pilot publications have conducted full product reviews of this new custom-molded Dynamic ANR aviation headset. The resulting reports have been full of praise, singling out this next-generation product as the new category leader in terms of both comfort and speech intelligibility.
This glowing praise includes:

"FreeCom's electronic noise-leveling system is as effective as the best ANR systems
and nicer to the ear. You have to try it to believe it!"
Aviation et Pilote (November 2012), France
"FreeCom 7000 surpasses anything that came before. It is perfect for demanding environments with different noise sources and offers great comfort during the entire flight."
Max Ungricht, Editor in Chief, Cockpit magazine (January 2013 issue), Switzerland
"The Phonak's in-ear shells are much more convenient than music earphones and the system's noise reduction is excellent. Compared to restrictive traditional headsets, the FreeCom is a very good solution."
Thomas Borchert, Editor in Chief, fliegermagazin (August 2012 issue), Germany
"We are delighted that Europe's top aviation editors are, like our customers, finding FreeCom to be a uniquely comfortable and high-performance aviation headset," said Evert Dijkstra, Managing Director of Phonak Communications. "Unlike restrictive muff-style products that are hot and cause tiring pressure around the head and ears, FreeCom offers total freedom from discomfort and its sound performance is second to none."
FreeCom 7000 is a professional custom-molded in-ear aviation headset with boom microphone. Designed for pilots who demand the very best, it features: 'dynamic' (active) level-dependent noise reduction, adjustable ambient awareness, excellent speech intelligibility and crystal-clear voice transmission.
For more details on FreeCom 7000 please visit:
http://www.phonak-communications.com/en/products/headsets/freecom-7000/
About Phonak Communications
Since 1992 Phonak Communications has helped professionals to communicate effectively in challenging environments. Thanks to our working closely with end users to develop solutions that perfectly meet their needs, our miniaturized wireless earpieces, headsets and professional hearing protection devices are used and trusted by demanding customers around the world. Based in Murten, Switzerland, Phonak Communications is a member of Sonova Group, the world's leading hearing healthcare company.
[http://www.phonak-communications.com