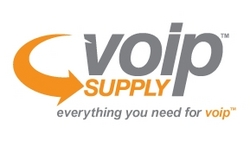 Buffalo, NY (PRWEB) June 3, 2008
VoIP Supply, LLC, a division of Sayers Technology Holdings and the leading VoIP solutions provider in North America, has supplied a VoIP phone system to NASCAR leader, Joe Gibbs Racing out of North Carolina. Joe Gibbs Racing purchased a complete IP-based phone system solution from VoIP Supply, comprised of equipment from leading manufacturers such as Aastra, Rhino Equipment and Sangoma Technologies.
Joe Gibbs Racing, the home of NASCAR superstars Tony Stewart and Kyle Busch has joined the trend of major companies switching to VoIP technology. As the team continues to ignite the racing world on the track, they will be leading the pack off the track, thanks to an IP-based phone system solution that will allow the company to lower costs, increase productivity and allow them to scale their telecommunications infrastructure as they grow.
Benjamin P. Sayers, President and CEO of VoIP Supply, is excited that VoIP technology use is expanding rapidly in all sorts of businesses and industries."Whether it is a racing team, a school, or a corporate headquarters, VoIP technology is allowing for the best telecommunications experience, and saving organizations plenty of valuable resources.
For more information about the phone system solutions for business offered through VoIP Supply, please visit our phone systems page.
About VoIP Supply
VoIP Supply, LLC (http://www.voipsupply.com), a division of Sayers Technology Holdings, is a leading Internet Retailer of Voice over IP Hardware. In addition to a comprehensive catalog of IP Phones, Telephone Adaptors, VoIP Gateways, and Small Business IP PBX solutions, the company offers technical support, extended warranties, and logistical services for end-to-end customer solutions. VoIP Supply was recognized nationally as number 359 on the 2007 Inc. 500 fastest growing privately-held companies in America and number 45 on the Entrepreneur Magazine's Hot 100 fastest growing companies in the U.S. VoIP Supply has also been recognized as one of the Best Places to Work in Western New York by Buffalo's Business First Newspaper, one of the Top 100 privately held companies in WNY, as well as the sixth fastest growing company in WNY by the Business First Fast Track 50 Award.
For additional information about VoIP Supply write: VoIP Supply, LLC, 454 Sonwil Dr., Buffalo, New York 14225, call us at 1-716-630-1555, visit the company's Web site at http://www.voipsupply.com or email: nschuman @ voipsupply.com.
###