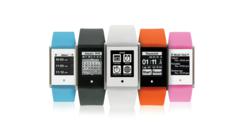 "The Touch Time will bring a unique element to the watch community without all of the added confusion," said Founder Donald Brewer
Los Angeles, CA (PRWEB) September 14, 2012
Touch TimeTM, a digital smart watch by Phosphor Watches, continues its upward trend on the popular crowdfunding website Kickstarter.
"I am humbled by the amount of support we have gotten so far," said Founder Donald Brewer. "The Touch Time will bring a unique element to the watch community without all of the added confusion."
The Kickstarter campaign officially launched on August 6 and will run until September 30. Currently, the new digital watch exceeded its initial goal of $50,000 on the first day it launched and is working towards the extended stretch goal of $300,000.
Kickstarter backers were quick to pledge the early bird reward for $89, selling out on this first day. The reward gave the first 200 backers the Touch TimeTM for a reduced price. The $99 level is still available for those who wish to pre-order the digital watch.
In response to the overwhelming support for the watch, two new rewards have been announced on September 13. For $175, backers can purchase a Limited Edition Kickstarter Green Touch TimeTM watch with a serially engraved gunmetal black stainless steel case. The Kickstarter edition has the watch's logo in Kickstarter green and black silicone strap. For the discerning watch collector, Phosphor has also announced a collector's edition for $1,050. This pledge will allow the backer to select any 10 stainless steel case and silicone strap variations.
About the Touch TimeTM Watch
Touch TimeTM is a spin on the typical digital watch. It utilizes a touch interface with the same capacitive touch screen technology that can be found in Smartphones today. Touch TimeTM is easy to use, allowing you to change the time display or select apps with a swipe of a finger. The watch comes preprogrammed with seven different apps including the ability to set six alarms, a calendar and a calculator. Touch TimeTM display is always on, making it easier to know the time and never needs to be charged and is water resistant. Owners are also able to switch between seven different watch face dials.
Unlike other smart watches, the Touch Time does not need to sync with the wearer's smartphone, allowing them to manage their settings directly from the watch. This makes the watch great for those who don't have a smartphone or those who don't want to open an app every time they want to change a setting.
To pre-order your Touch TimeTM or to get one for your friends and family in time for the holidays, visit their Kickstarter page.
About Phosphor
Phosphor is a new American watch brand focused on the relentless pursuit of watches that integrate new technologies combined with compelling design. The Phosphor brand is owned by Art Technology Limited, which has offices in both United States and Hong Kong. More information can be found at http://www.phosphorwatches.com. Stay up to date with Phosphor on Facebook at http://www.facebook.com/PhosphorWatches and follow Phosphor on Twitter @PhosphorWatch.