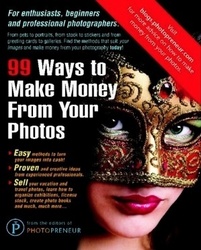 99 Ways To Make Money From Your Photos
New York, NY (Vocus) September 9, 2009
Photopreneur, the photography Web site offering information and resources to help photographers make the leap from artist to entrepreneur, today thanked the reviewers and readers that have helped make "99 Ways To Make Money From Your Photos" a Top 10 seller in Amazon's professional photography category. The 340-page, softcover photography book can be ordered from Amazon at a special, discounted price.
Loaded with ingenious strategies and real-world examples, "99 Ways To Make Money From Your Photos" offers 99 inspiration-sparking ideas for making images that generate cash. Each chapter reveals what kinds of photos to shoot, where to market them, and how to turn your visual creativity into cash. Readers will learn how to sell stock, earn money with Flickr, shoot for social networking sites, create and sell photo products, upsell event photography, exhibit in galleries and more.
From beginners to experienced pros, "99 Ways To Make Money From Your Photos" can help anyone earn turn their love for photography into a legitimate source of income.
In addition to receiving praise from photography bloggers and professional reviewers, "99 Ways To Make Money From Your Photos" has earned kudos from numerous readers who have purchased the book. Here are a few of their comments:
"This book does indeed list 99 ways to make money from selling your photos. The assumption is that you're already a competent photographer, and if that's so then this book, along with some creativity, imagination, and hustle on your part will help you to begin to make some money from your photographs.
"What I especially like about this book is that each way to make money rates how difficult it is to make money with that particular tip, the amount of competition you'll face, and that tip's income potential. Each tip is described in detail and includes how to get started and tips for success! In some cases specific web sites, etc., are included as possible outlets for your work. If you're already a good photographer, and you're willing to take this book and really work hard at what it teaches you, then you should begin selling your own work soon. I have!"

"It's not often I see a book like this one. Too many times, I've gotten one of those 'ideas books' from the library and found fabulous ideas ... and then couldn't figure out how to do it ... Fortunately, 99 Ways to Make Money From Your Photos goes beyond the traditional idea book and tells you exactly how to do each of these 99 things."
"When I first picked up this book, I thought I was going to get a list of vague ideas … Luckily, this book is the exception to my skepticism… My recommendation is if you are looking for a way to make some extra cash, or if you're wanting to begin your own photography-based business, this is an excellent resource to have on hand."
Published by New Media Entertainment, "99 Ways To Make Money From Your Photos" retails for $34.95 but is currently available at Amazon at a special, discounted price.
About Photopreneur
Photopreneur is one of the Web's top photography sites, featuring stories, interviews and expert marketing advice. Its editors bring together decades of experience at the highest levels of professional photography. The Photopreneur team combines rigorous research, marketing creativity and a deep understanding of the photography business to help photographers - professional, enthusiast and occasional - earn income from their images. Photopreneur is owned by New York City-based New Media Entertainment, Ltd. Check out Photopreneur at http://blogs.photopreneur.com.
Contact:
Cathy Baradell
(972) 235-3439
###