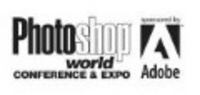 TAMPA, Fla. (PRWEB) February 19, 2008
This exceptional money-saving discount is available to all individuals interested in attending an amazing educational event that will forever change the way they use Photoshop. Register early at https://www.photoshopworld.com/register.html or call toll free at 800-738-8513, Monday-Friday, 8:30am-7:00pm EST.
Photoshop World features more than 100 in-depth classes taught by an all-star line up of industry experts, including Scott Kelby, Dave Cross, Bert Monroy, Katrin Eismann, Fay Sirkis, Dan Margulis, Joe McNally, David Ziser, and more. Class sessions cover Adobe Photoshop(R), Lightroom(R), Photoshop Extended, and Web development applications, as well as commercial design, outdoor and wedding photography, motion graphics and video, scripting, HDR (High Dynamic Range) photography, and much more. For a full list of classes or to download a conference brochure, visit http://www.photoshopworld.com.
Accompanying the jam-packed class schedule is a three-day Tech Expo, which showcases the latest cutting-edge digital imaging and graphic design related products offered by Adobe, Microsoft, Epson, Canon, Dell, Wacom, Corel, iStockphoto, Data Robotics, onOne software, Media Lab, B&H, CDW, O'Reilly, Peachpit Press, and more.
Photoshop World Conference & Expo registration is $599US by February 29 and $699US after for the general public. NAPP member advance registration is only $499US before February 29 and $599US after. Special pricing is available for students, educators, and alumni of Photoshop World.
About Photoshop World
Photoshop World is sponsored by Adobe Systems Incorporated and produced by the National Association of Photoshop Professional twice a year.
About NAPP
The National Association of Photoshop Professionals (NAPP) is a dynamic trade association, and the world's leading resource for Adobe Photoshop training, news, and education. An award-winning team of Photoshop experts, authors, consultants, and trainers lead the association keeping its members on the cutting edge of Adobe Photoshop techniques and technology. Visit http://www.photoshopuser.com for more information.
Adobe, Photoshop, and Lightroom are registered trademarks of Adobe Systems Incorporated. All other trademarks are property of their respective owners.