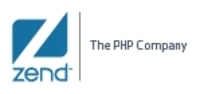 Cupertino, CA (PRWEB) January 28, 2010
Zend Technologies Inc., the PHP Company, announces the availability of Zend Framework 1.10, the new release of its open source PHP web application framework. Zend Framework 1.10 includes support for Microsoft Windows Azure cloud services and the Deutsche Telekom Developer Garden platform. The new release also provides documentation and tutorial enhancements.
Persistent, Redundant Storage in the Cloud
Using the new Zend_Service_WindowsAzure component, contributed by Microsoft to the Zend Framework open source project, developers can easily call Windows Azure APIs from their PHP applications to accelerate web application development and scale up on demand. Zend_Service_WindowsAzure provides interfaces for all Windows Azure storage services, including Blob Storage, Table Storage and Queue Service. These services provide the advantages of persistent, redundant storage in the cloud.
"PHP developers find the Windows Azure platform compelling," said Jean Paoli, General Manager Interoperability at Microsoft. "Microsoft's decision to contribute PHP-based Windows Azure components to Zend Framework helps demonstrate Microsoft's commitment to openness and interoperability by providing greater choice and opportunity for Microsoft customers and partners."
"The ubiquity, simplicity and flexibility of PHP make it ideal for building cloud applications. Native Windows Azure support in Zend Framework 1.10 brings the power of Windows Azure to a substantial community of Zend Framework users," said Zeev Suraski, Chief Technology Officer and Co-founder of Zend. "Along with new features for established developers, we are shortening the learning curve for beginners, with enhanced documentation, new tutorials and improved documentation structure."
Web-based Communications Services
Also included in Zend Framework 1.10 is a new component for accessing Deutsche Telekom's Developer Garden, an open collaboration platform between developers and Deutsche Telekom. Using Zend_Service_DeveloperGarden, developers can leverage a host of telecommunications services, such as SMS, voice calls and conference calls, from their PHP applications.
Download Zend Framework 1.10 from http://framework.zend.com/download/latest.
Contacts:
Ran Gishri
Zend Technologies
press at zend dot com
+1 408-253-8800
About Zend Technologies
Zend Technologies, Inc., the PHP Company, is the leading provider of products and services for developing, deploying, and managing business-critical PHP applications. PHP runs 35 percent of the world's Web sites and has quickly become the most popular language for building dynamic Web applications. Deployed at more than 30,000 companies worldwide, the Zend family of products is a comprehensive platform for supporting the entire lifecycle of PHP applications. Zend is headquartered in Cupertino, California.
For more information, please visit http://www.zend.com or call +1 408-253-8800.
Zend, Zend Technologies, Zend Framework, Zend.com, Zend Server, and Zend Studio, and associated logos and icons, are trademarks of Zend Technologies, Inc. and may be registered in certain jurisdictions. All other trademarks are the property of their respective owners.
###