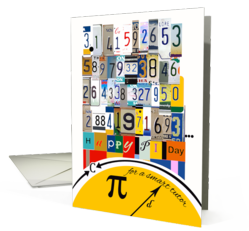 Once shoppers discover the variety of Pi Day cards we offer they'll never shop anywhere else, to do otherwise would be irrational.
San Francisco, CA (PRWEB) March 12, 2013
Greeting Card Universe, the world's largest greeting card store, announces its popular collection of 212 hard to find and uncommon cards giving you more than 3.14159 reasons to celebrate Pi Day.
"Pi Day was created in 1988 by Larry Shaw, known as the 'Prince of Pi,'" says Mindy Rosso-Gaemi, Community Manager at Greeting Card Universe. "Held on March 14 each year, the holiday celebrates the mathematical constant pi, the ratio of a circle's circumference to its diameter. Mathletes, students, teachers, and number nerds around the world observe Pi Day by holding events, eating pie or pizza, reciting pi to as many decimal digits as possible, singing Pi Day songs, and playing math games, pi themed scavenger hunts, and logic puzzles. Basically paying homage to anything circular is the order of the day."
In 2009, a non-binding resolution passed by the U.S. House of Representatives recognized March 14 as National Pi Day. Fittingly the date happens to be Albert Einstein's birthday, although not a formal mathematician but world famous physicist. Since its founding, Pi Day has become more popular in mainstream culture, particularly those who identify with geeks and smarty pants in general. Clearly humor plays an important role.
"All kinds of pi themed gifts and greeting cards have entered the marketplace in recent years to cater to the demand for tongue in cheek humor," says Rosso-Gaemi. "People don't want to be thought of as 'square' on Pi Day, so our talented artists have been hard at work creating whimsical designs based around pi for shoppers to send to the math lovers in their lives."
Ordering from Greeting Card Universe's collection is easy and convenient with a plus for last minute shoppers. Cards can be ordered online and picked up— usually within one hour—from most Target stores across the country.
Additionally custom greeting cards can be created within 48 hours at no additional cost by requesting changes or a totally new design from a community of more than 5,700 freelance artists from around the world. Shoppers can also personalize the inside of all cards at Greeting Card Universe with their own text and photo.
"Once shoppers discover the variety of Pi Day cards we offer, they'll never shop anywhere else," says Rosso-Gaemi. "To do otherwise would be irrational."
Greeting Card Universe's traditional and niche offerings of over 580,000 cards gives nod to the importance of choice and personalization in today's marketplace and stays true to its tagline "any card imaginable". Hard to find cards like Pi Day cards really "round" out the collection.
Explore more uncommon holidays and occasions on the Greeting Card Universe blog. Mindy Rosso-Gaemi is available for guest blogs, radio and TV interviews on this topic and other uncommon occasions and holidays.
About Greeting Card Universe
Greeting Card Universe (http://www.greetingcarduniverse.com) is a division of BigDates Solutions, a private company that provides consumers with unique, personalized services for any holiday or occasion. Greeting Card Universe is the world's largest paper greeting card store, offering an unlimited selection of custom greeting cards, birthday greeting cards, photo cards, invitations, and note cards. BigDates Solutions is the leading provider of Online Reminder Service Solutions, powering gift-reminder services, including 1800Flowers.com and FTD.com. The company is also the owner of Birthday Calendar, a Facebook application with over 42 million installs.