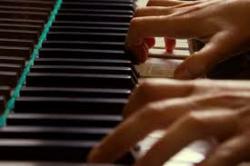 The Piano Rocket Lessons series is designed for anyone to learn quickly without requiring any additional investments in instruments or other training materials.
Memphis, TN (PRWEB) September 07, 2012
Piano lessons used to be part of some school music programs, but budget cuts and teacher layoffs stopped this practice in the mid 1980s. A new streaming video series is now available online taught by an expert to help those that want to learn piano to do it quickly. The Piano Rocket Lessons series is a complete course that is offered in easy to read e-books and streaming videos from a 30-year piano veteran. This complete piano course is available to download at the following link and provides an alternative opportunity for parents or school systems that want to teach students or children how to play piano fast.
Playing the piano has been proven in university research studies to improve learning ability in other subjects. Schools that were able to invest in music education programs reported higher numbers of students with above average reading and mathematical skills thanks in part to school music programs. The current shortage of school music programs is partly due to a lack of music teachers and the high cost to pay for licensing fees for books and lesson materials. The Piano Rocket Lessons series is designed for anyone to learn quickly without requiring any additional investments in instruments or other training materials.
Piano lessons offered by private teachers can range between $30 to $250 per hour according to a leading salary survey website. The average piano teacher recommends a training schedule of a few hours every week at minimum to learn the scales, notes and measures that are required to learn classical and popular songs. One of the differences between these traditional methods and the Piano Rocket Lessons series is the way that training is provided. Instead of starting with boring musical theory first, the instruction begins with how to play a piano song instantly. Studies have shown that sparking interest in a musical instrument the right way can lead to increased playing and practicing times instead of confusion and burnout.
Online learning has grown substantially since many universities and learning institutions first started registering website domain names. The traditional learn at home methods or correspondence courses that were available did not teach musical instrument training. The creation of digital video and website streaming technology has helped to increase demand for learning a musical instrument like piano online. The Piano Rocket Lessons series is one of the only training methods that require no personal instruction.
A person that is interested in learning piano fast and easy could benefit from the 60-day money back guarantee that is offered with the Piano Rocket Lessons series. The publisher has agreed to refund the entire course price to anyone that is unsatisfied with the training received.
About Piano Rocket Lessons
Piano is one of the few instruments that require no university education to master. Thousands of people worldwide have already benefited from the Piano Rocket Lessons series and now it is available by streaming video online. The course was created by piano experts with years of experience teaching children and adults how to play piano songs fast. The variety of the training is one benefit of this course compared to similar learn at home courses. Popular songs, classical songs and some music theory is taught to learners in the Piano Rocket Lessons series to provide one of the most comprehensive piano courses available online.