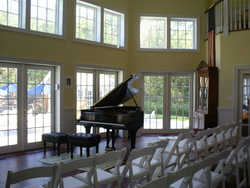 It is only fitting that they are able to master the craft on some of the best instruments in the world
Sag Harbor, NY (PRWEB) August 23, 2007
The Vladimir Nielsen Piano Festival reached an agreement with Steinway & Sons on exclusive use of their world renowned pianos. Eleven grand pianos with a combined worth of $480,000 dollars were installed in the newly built festival facilities. The Pianos are used routinely for concerts and practice by festival participants. The final concert of the summer season will take place on Saturday, August 25th performed on a Steinway Concert Grand piano.
The Vladimir Nielsen Festival was established to provide the highest level of musical education for accomplished young pianists in an intimate, family-like atmosphere. The young participants were selected through a rigorous audition process for their exceptional skills and dedication to classical piano performance. "It is only fitting that they are able to master the craft on some of the best instruments in the world," says Rob Maimone, the Executive Director of the festival. Steinway technicians installed all of the instruments and gave educational presentations on the building and making of a Steinway.
Located in the historic village of Sag Harbor, the festival grounds are tucked away in a quiet and private setting well suited to classical music. The state-of-the-art facilities feature practice rooms outfitted with one or two Steinway pianos, all inclusive living for students as well as a newly built concert hall.
The festival will culminate with a Gala Concert on Saturday, August 25th at 5pm. Audiences are invited to attend and reservations are required. Tickets are $75. For tickets and reservations please call the festival at (631) 899-4074.
For more information about the festival or to set up interviews please contact Boris Shpitalnik, publicist, at (347) 282-4841, e-mail: klarion @ artsxmusic.org
###