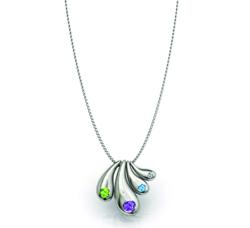 It is a true partnership that ultimately benefits the Children of the Clariden School by ensuring a constant source of support for the many unique programs that are offered there. — Pieter Andries
Southlake, TX (PRWEB) March 04, 2013
Pieter Andries, certified gemologist and founder of Pieter Andries, Creators of Fine Jewelry based in Southlake, was honored to sponsor The Clariden School of Southlake's annual auction on February 23rd, donating two custom-designed pendants exclusively for the event.
Andries has been a longtime supporter of The Clariden School. In March of 2011, Andries hosted a six-course fundraising dinner in the custom jewelry store's showroom. He also donated a gemstone, acquired from premier gemstone cutter, Atelier Munsteiner, to benefit The Clariden School in May, 2012. Last July, students of The Clariden School were invited to the store for the 2nd Annual Rock Hunt, where they were given the opportunity to learn about gemology from expert jeweler, Andries himself.
The Clariden School 19th Annual Auction and Gala was held at the DFW Marriott Solana on February 23, 2013. The theme was "Together Today, Prepared for Tomorrow" with Boots and Bling attire. For this year's auction, Andries planned to create a special, personalized birthstone pendant with a chain designed and created in 18k white gold for donation as an auction item. On the night of the event, Andries surprised the audience with an offer to make two pendants. The items raised $12,000 for The Clariden School.
"The longevity of our partnership with the Clariden School is largely due to the enthusiasm of the teachers and parent volunteers involved," said Andries, "Together we can ensure a successful fundraising event for the school and continued success for Pieter Andries. It is a true partnership that ultimately benefits the Children of the Clariden School by ensuring a constant source of support for the many unique programs that are offered there".
The Clariden School is a unique private school serving children from age three through 12th grade. The Clariden School was established in 1986 as an AMI Montessori school. The school moved from its first location in Dallas to Southlake over 13 years ago. In 2001 the school moved to its permanent home on 23 acres, with the vision to expand both its upper and lower school program. Reaching over 17 different cultures, The Clariden School embraces diversity and a global education. The school campus has over 43,000 square feet, housing a Fine Arts Building, Gym/Auditorium, Upper School, Lower School and Administrative buildings.
To learn more about Pieter Andries Creators of Fine Jewelry, visit http://www.pieterandries.com.
About Pieter Andries, Creators of Fine Jewelry
Whether it is a redesign or a dream about to become a reality, the creative design expertise that Pieter Andries has cultivated over 40 years, as a Master Goldsmith and American Gem Society Certified Gemologist, is reflected in each of his creations. Skilled professional craftsmen work under the direction of Pieter Andries utilizing state-of-the-art equipment and design technology to create a masterpiece of perfection and beauty – including diamond engagement rings, wedding bands and custom jewels. Offering the largest selection of rare, conflict-free diamonds in North Texas, Pieter Andries guarantees customer satisfaction of every piece of jewelry he creates. At Pieter Andries, it's all about YOU! For additional information, call 800-233-3459 or go to http://www.pieterandries.com.