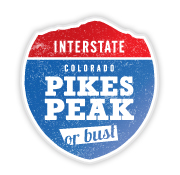 We hope our visitors post lots of pictures of their experiences here because we can't wait to give away all these Pikes Peak or Bust t-shirts
Canon City, Colorado Springs, Cripple Creek and Manitou Springs, CO (PRWEB) June 21, 2011
Each week Pikes Peak Country Attractions Association(PPCAA) will be giving away t-shirts emblazoned with the world-renowned slogan, Pikes Peak or Bust, an expression that recalls Colorado's famous gold rush of 1859. Today, the catchphrase captures the excitement and enthusiasm of visitors who come to experience all that Pikes Peak Country has to offer.
"It's been over 150 years since the 59'ers discovered the treasures of the Pikes Peak region. Today, with all there is to see and do, the area is still a gold mine of adventure, activities, natural wonders and history," said Michele Carvell, Executive Director, Pikes Peak Country Attractions Association. "We hope our visitors post lots of pictures of their experiences here because we can't wait to give away all these Pikes Peak or Bust t-shirts."
Winning is just a click away. Here's how: snap a few photos at any of 26 PPCAA attractions and post the pictures on the PPCAA Facebook page, then invite friends to "like" the photos. Each week, the top five most "liked" pics will win the limited edition Pikes Peak or Bust t-shirt, while supplies last. Winners will be announced every Wednesday on Facebook.
Have fun and get ready to win at these Pikes Peak Country Attractions:

Academy Riding Stables
Cave of the Winds
Challenge Unlimited-Pikes Peak by Bike
Cheyenne Mountain Zoo
Cripple Creek and Victor Narrow Gauge Railroad
Cripple Creek Heritage Center
Echo Canyon River Expeditions
Flying W Ranch
Garden of the Gods Trading Post
Garden of the Gods Visitor & Nature Center
Ghost Town Museum
Historic Manitou Springs
Historic Old Colorado City
Iron Springs Melodrama Dinner Theater
John May Museum
Manitou Cliff Dwellings
Miramont Castle Museum
Mollie Kathleen Gold Mine
North Pole / Santa's Workshop
Pikes Peak - America's Mountain
Pikes Peak Cog Railway
ProRodeo Hall of Fame
Royal Gorge Bridge and Park
Royal Gorge Scenic Railway
Seven Falls
The Western Museum of Mining & Industry
About Pikes Peak Country Attractions Association
Since 1974, the Pikes Peak Country Attractions Association (PPCAA) has been promoting the Pikes Peak region, comprised of Colorado Springs, Manitou Springs, Cripple Creek and Canon City, to millions of destination visitors. The 26 members of Pikes Peak Country Attractions Association offer natural and man-made attractions that are family oriented, safe and that add to quality of the guest vacation experience. High-resolution photos and links to our member attractions may be found at http://www.Pikes-Peak.com. The PPCAA office is open 9:00 AM to 5:00 PM Monday through Friday.
Media Contact:
Michele Carvell, Executive Director
Pikes Peak Country Attractions Association
800-525-2250 or 719-685-5894
michele (at) pikes-peak (dot) com
###