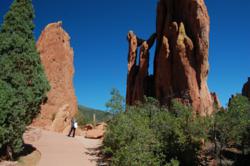 We promise some 'bucket list' adventures in Pikes Peak Country in 2012!
Colorado Springs, Colo. (PRWEB) April 04, 2012
Pikes Peak Country Attractions Association, with more than two dozen natural and man-made attractions that are family-oriented, diverse and memorable, is rolling out new adventures alongside tried-and-true favorites in 2012. Pikes Peak Country is defined as the region around Pikes Peak, America's Mountain, in southern Colorado. At its base are Manitou Springs and Colorado Springs. Cripple Creek and Victor, famous gold camps of the 1800s, are west of Colorado Springs. Canon City, Royal Gorge and the Arkansas River are southwest of Colorado Springs.
"To plan your trip, we recommend that you read our new, free Official Visitor Guide to Colorado Springs and the Pikes Peak Region from cover to cover," says Michele Starling, executive director of Pikes Peak Country Attractions. "In it, we've rolled out a new eight-day itinerary that has visits to each of our 26 member attractions. We promise some 'bucket list' adventures in Pikes Peak Country in 2012!" Guided tours on Pikes Peak, a new eatery at an old mine, and a new zipline adventure are some of the innovative extras being introduced this year.
Soaring Eagle Zipline New at Royal Gorge
Royal Gorge Bridge and Park near Canon City, Colorado, is home to one of the world's highest suspension bridges. This year, the park is unveiling its newest thrill attraction, the Soaring Eagle Zipline. The ride takes passengers on a 1,400-foot out-and-back course, at speeds of 35 miles per hour, flying as high as 1,000 feet across the gorge and above the Arkansas River. The Soaring Eagle Zipline is an adrenaline-stimulating ride, but it's also family-friendly and appropriate for riders young and old. Riders are secured into a chair, but have freedom of movement of their arms and legs on the zipline. The Incline Railway, Aerial Tram, and a dozen more rides, shows, and attractions for the visitor season will be open and available starting April 28 at Royal Gorge Bridge and Park.
The South Side of the Peak
Historically, Pikes Peak has been enjoyed by hiking the venerable Barr Trail, driving the Pikes Peak Highway, or riding the historic cog railway. In 2012, there's a new way to see some pristine, hidden treasures on the peak, courtesy of the City of Colorado Springs and the Trails and Open Space Coalition. The south slope of Pikes Peak has been closed to hikers for more than 100 years in the interest of protecting the fragile watershed, but now there will be select guided hikes in this remote area. In July, August and September, two monthly guided tours will cover seven miles of easy terrain over four hours. Each hike can accommodate 25 people, at a cost of $12 per person. Hikes are geared to fit, intermediate-level hikers, who are prepared for the 11,000-foot elevation of the trail. Visitors will be treated to views of the summit, Boehmer Reservoir, ancient fens — or 10,000-year-old bogs — and rare plants indigenous to this Pikes Peak ecosystem. For dates, times and reservations, go to http://www.trailsandopenspaces.org.
New Designation for Old Park
In late 2011, the American Planning Association named Garden of the Gods one of the Ten Great Public Spaces in America for its inspiring geology and dramatic rock formations, preservation of natural and homesteading history, and its role in providing habitat for species as diverse as dinosaurs and honey ants over the millennia. Now a city-owned park, Garden of the Gods offers exceptional natural beauty, wildlife viewing, hiking and biking trails, rock climbing and horseback riding. Guests should start their visits at the Garden of the Gods Visitor and Nature Center to get maps and information to help identify trails, activities and geologic wonders in this 1,350-acre natural park.
Toasty and Tasty
A classic theme park founded in 1956, and open daily from mid-May to Christmas Eve, The North Pole, Home of Santa's Workshop, serves up holiday spirit throughout the year at its foothills location between Colorado Springs and Woodland Park on Highway 24. Magic shows, 24 family rides, visits from Santa and a petting zoo are standard here. This year, Santa welcomes visitors to his new fire pit to make s'mores and toasted marshmallows.
Miner Diner
The Mollie Kathleen Mine is the world's only 1,000-foot vertical shaft gold mine tour. Millions of people have visited this authentic, safe, educational attraction over the past 60 years. Tours are guided and narrated by miners, and guests ride an air-powered mining train and witness an 1890s steam hoist in full operation. In 2012, the Mollie Kathleen Mine introduces its new diner, located in a renovated Pullman rail dining car. The diner offers indoor and outdoor seating, and overlooks Poverty Gulch, where the initial gold discovery at Cripple Creek started the illustrious history of this prolific gold camp. Visitors who tour the mine save 10 percent on food at the new Miner Diner.
Echo Canyon River Expeditions: New Packages and Season Pass
Longstanding Arkansas River rafting and adventure outfitters, Echo Canyon River Expeditions, rolls out two packages and a new season pass in 2012. The Pack-n-Saddle trip is a two-hour horseback ride in the morning and a three-hour raft trip in the afternoon. As an add-on to any river trip, Echo Canyon will also sell the new Royal Gorge Adrenaline Package at a 30-percent discount. It includes admission to the Royal Gorge Bridge and Park, and rides on the Sky Coaster and new Soaring Eagle Zipline.
The Echo Canyon season pass offers unlimited half-day trips, one full-day trip, and numerous value-added perks during the 108-day rafting season that begins May 19, 2012, and concludes Labor Day weekend. The season pass is $249.
The 8 Mile Bar and Grill at Echo Canyon, constructed in 2011, serves lunch and dinner with a magnificent patio view of the famous Royal Gorge Bridge. Executive chef Angela Dils will introduce new menu items along with tried-and-true signature dishes, like fish and chips, when the restaurant re-opens in May for the summer season.
Flying W Ranch Celebrates 60 Years
The Flying W Ranch has been serving up its famous chuckwagon dinner and wholesome live cowboy musical entertainment and comedy since 1952. In 2012, the Flying W commemorates its 60-year anniversary with a new race and two special entertainment events.
On July 21, it will host the Big Dog Brag, a 5K military-style obstacle and endurance race through a muddy, challenging course on the 800-acre grounds of the ranch. Registration and event details are available at http://www.bigdogbrag.com.
On August 15, the legendary Sons of the Pioneers will perform cowboy music classics like "Tumbling Tumbleweed," "Cool Water" and "Ghost Riders in the Sky." Dinner is included in the $45 ticket price. The Chuckwagon Association of the West Jamboree takes place September 24-26, with three nightly entertainment acts and dinner. Tickets for both events are available exclusively by phone at 1-800-232-3599.
Pikes Peak Country Attractions Association has a new location in 2012. It moved from Manitou Springs to its new downtown Colorado Springs address at 6 South Tejon Street, Suite 415. To find out more about all 26 of its new and longstanding member attractions, go to http://www.Pikes-Peak.com.
About Pikes Peak Country Attractions Association
Since 1974, the Pikes Peak Country Attractions Association (PPCAA) has been promoting the Pikes Peak region, comprised of Colorado Springs, Manitou Springs, Cripple Creek and Canon City, to millions of destination visitors. The 26 members of Pikes Peak Country Attractions Association offer natural and manmade attractions that are family-oriented, safe and that add to quality of the guest vacation experience. High-resolution photos and links to our member attractions may be found at http://www.Pikes-Peak.com. The PPCAA office is open 9:00 AM to 5:00 PM Monday through Friday, and has a new location at 6 South Tejon Street, Suite 415, Colorado Springs, 80903.
Media Contact
Michele Starling, Executive Director
Pikes Peak Country Attractions Association
800-525-2250 or 719-685-5894
michele(at)pikes-peak(dot)com
# # #