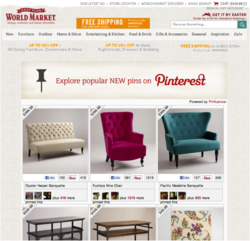 Gallery extends the experience of Pinterest on brand's websites with dynamic pricing and in-stock products.
San Mateo, CA (PRWEB) March 19, 2013
Pinfluencer, the leader in marketing and analytics for Pinterest, today announced it has rebranded itself as Piqora, The Complete Marketing Suite for Pinterest, and has launched Gallery, a new fully-embeddable, social e-commerce product for brands using Pinterest and Facebook. Gallery by Piqora is a tablet optimized, automated visual feed of a brand's in-stock, top products trending on social networks, creating a social e-commerce experience for consumers and helping marketers convert their social traffic. The new Piqora Suite now encompasses analytics, promotions, content management and social e-commerce.
Piqora customers already using Gallery on Facebook and special landing pages include Cost Plus World Market, Overstock and Buckle.
Gallery is an automated merchandizing engine that uses machine learning and social design to deliver trending products that are relevant to the e-commerce context of the user. It builds this page around a brand's socially curated top pins, pulling in price and product title dynamically from the product page of a company's website. By cutting and pasting a short line of code, brands can redirect the users to these visual landing pages, embed their trending products on any web page, landing page or even on a Facebook tab.
"We have changed our name to Piqora because it is an elegant blend of piquing one's curiosity and inquiry about products. The new name also implies pictures and the IQ lends itself to deep analysis. This encompasses the essence of what we do," explained Sharad Verma, CEO, Piqora. "Our new Gallery product gives brands a way to nurture their discovery traffic from social networks and tablet users, showcase what is most popular and offer customers a rich, boutique-type browsing experience. The addition of Gallery makes Piqora the complete Marketing suite for Pinterest by leveraging the visual appeal of the social platform, helping brands to turn their browsing customers into paying customers."
Gallery is designed to help marketers convert social traffic into sales. Pinterest is a visual discovery experience, and the landing pages for Pinterest traffic promote on-site product browsing, pinning and purchases. Unlike search, social visitors have an inherent curiosity to browse categories and discover, and marketers are recognizing that these customers need to be presented with visually compelling options before they will make a decision to purchase a product. Piqora monitors social pinning activity from channels like Pinterest and Facebook, examines search queries, traffic and purchase data from GA, Omniture and Coremetrics to weave aspirational products with buyable products in its feed of products.
"The Pinterest community is out in full force, finding treasures on Overstock.com and sharing pinspiration with their friends and followers. At Overstock.com we check more than 500,000 prices every week, so fans know that they're sharing products with big savings off retail prices," said Stormy Simon, co-president of Overstock.com. "Piqora's Gallery product harnesses the power of trend-setters in the Pinterest community, who are curating the hottest in home décor, as well as the savings from Overstock.com and brings top trending products on to our website and Facebook tabs".
The Piqora Gallery landing pages are optimized to promote product discovery and maximum pinning from the landing pages. More pins lead to more traffic and sales. Piqora has also powered over 100 contests and sweepstakes driving up to 25 million impressions per contest, 20 pins per participant, and saving marketers hours of manual work by automatically tracking user eligibility.
About Piqora
Piqora is the leader in marketing and analytics for Pinterest. The first to launch a complete marketing suite and incorporate conversion and revenue metrics, Piqora already has hundreds of well-known retailers, brands and publishers using its promotions and analytics engine to easily identify and connect with influential brand advocates, gain actionable insights into trending pins and boards, and measure key virality metrics to quantify brand engagement with a Piqora audience. Top brands working with Piqora include Sephora, Zappos, Etsy, Z Gallerie, Orbitz, and Steve Madden. For more information on Piqora visit http://www.piqora.com.
Media Contact: Sharad Verma, CEO, Piqora 408.594.9728 sharad(at)pinfluencer(dot)com