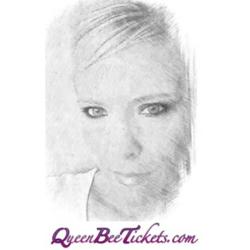 An impressive quantity of Pink pre-sale tickets for The Truth About Love Tour will be released for 28 shows on March 25 by popular discount ticket company QueenBeeTickets.com.
Germantown, Wisconsin (PRWEB) March 24, 2013
Fans who do not want to miss out on The Truth About Love Tour can purchase Pink pre-sale tickets at QueenBeeTickets.com. On Monday, March 25, the company will release a large inventory of discounted 2013 Pink concert tickets for sale in the secondary market.
The Truth About Love Tour, Pink's sixth tour, began on February 13, 2013. There were incredible Pink ticket sales for the first leg of the tour, and Pink played to sold out crowds at every venue. Because of this incredible demand, The Truth About the Love Tour has been extended to a total of 60 shows in North America. Most of these shows will take place in the United States, but Canadian fans can purchase 2013 Pink concert tickets for shows in Vancouver, Edmonton, Saskatoon, Winnipeg, Montreal and Toronto. QueenBeeTickets.com will offer Pink pre-sale tickets for 28 of these additional shows. The official public on-sale will begin on Saturday, March 30.
The Truth About Love Tour promotes Pink's studio album by the same name. Pink released "The Truth About Love" on RCA Records on September 14, 2012. The album debuted at the number one position on the Billboard charts in the United States, and over 280,000 copies were sold during the first week. In addition, "The Truth About Love" had number one debuts in numerous other countries, including Australia, Canada, Germany, New England, Switzerland and Austria.
Pink is bringing The Truth About Love Tour around the world. In addition to a long list of performances in North America, Pink will also be performing this year in Europe and Australia. Pink ticket sales and album sales have been impressive around the world.
Pink ticket sales have not been the only impressive part of The Truth About Love Tour. The tour has received positive reviews from both fans and critics, and many people believe that it is Pink's best tour ever.
Fans love purchasing 2013 Pink concert tickets from QueenBeeTickets.com because the website offers genuine tickets at deeply reduced prices. Pink fans can find the authentic concert tickets they have been searching for at prices that they can afford by purchasing from this provider.
Customers enjoy shopping at QueenBeeTickets.com because the company offers an incredible selection of event tickets at discounted prices. Fans can find Broadway tickets, concert tickets, NBA tickets, NHL tickets and much more. All tickets are verified for authenticity, and orders ship quickly and securely through FedEx.