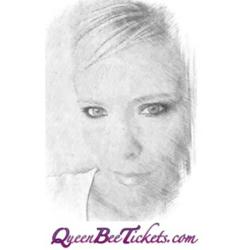 QueenBeeTickets.com is known for their great selection of discount concert tickets, including tickets for Pink concerts.
Germantown, Wisconsin (PRWEB) March 25, 2013
It is only March, but Pink has had a busy 2013 so far. The artist's The Truth About Love Tour began on February 13 in Phoenix, and Pink has continued to entertain audiences across North America.
The tickets for Pink concerts have disappeared quickly, and the tour has been sold out at every venue. However, there is still hope for fans who have not been able to attend a concert yet. Because of the incredible demand for tickets and the warm response Pink has received, The Truth About Love Tour has been extended. QueenBeeTickets.com knows that many customers are searching for low ticket prices, so the company is helping customers increase their savings by offering a Pink promo code.
Pink will remain in North America through March 23. After that, she will spend April 12 through May 30 bringing The Truth About Love Tour to audiences in Europe. Next, the tour travels to Australia from June 25 to September 5. Finally, Pink will return to North America for additional performances from October 10 to December 14. Pink concert tickets for sale are being sought after by fans all over the world.
Since The Truth About Love Tour has been so popular, it can be challenging to locate reasonably priced tickets for Pink concerts. QueenBeeTickets.com takes the hard work out of searching by offering a great selection of Pink concert tickets for sale. Tickets for Pink concerts are already listed at QueenBeeTickets.com, and the ticket selection will increase as more tickets are released for purchase over the next week.
QueenBeeTickets.com works hard to offer some of the cheapest event tickets on the Internet. When fans are browsing the selection of Pink concert tickets for sale, they can increase their savings even further by applying a Pink promo code. This code can be used for all Pink concert tickets. Customers who shop online can apply the code at checkout. Customers who prefer to speak with a live representative can mention the code when they place an order over the phone.
QueenBeeTickets.com proves that customers do not have to break their budgets to purchase the event tickets that they have been hoping for. The site offers everything from professional sports tickets to pop concert tickets at bargain prices. Customers can be assured that all tickets are genuine and supported by the company's 100 percent customer satisfaction guarantee. Other hot sellers in concerts this will are John Mayer tickets and tickets for The Eagles. Paul McCartney just recently set international tour dates for his 2013 Out There Tour, and QueenBeeTickets.com has plans to offer Paul McCartney tickets at fair prices once dates are set in the U.S.