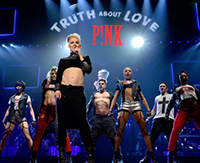 Fans should find Pink tickets now with tickets from eCity Tickets to lock in the best possible seats.
(PRWEB) March 28, 2013
Pink tickets for North America are on sale now for all scheduled concerts for The Truth About Love World Tour. P!NK will hit all of the major cities in 2013 including Los Angles, Denver, Vancouver, Minneapolis, Chicago, Dallas, Cleveland, Toronto, and Washington DC just to name a few. Pink concerts this year have been compared to a Cirque du Soleil performance with the dancing and acrobatics in the show. Touring in support of her newest album of the same name, Pink will perform the platinum single "Blow Me (One Last Kiss)", "Try", and "Just Give Me A Reason" from the new album. "The Truth About Love album debuted at number one on the Billboard 200 chart, becoming her first number one album there, and has been certified Platinum by RIAA after selling over a million copies in the United States. The album also debuted at number one in several other countries. The Truth About Love has been announced as Australia's biggest selling album of the year. The album was the 6th best-selling album in the world in 2012.
Pink has sold over 50 million singles and 40 million albums worldwide. She has earned 3 Grammy Awards, 5 MTV Video Music Awards and a Brit Award. Performing in Philadelphia clubs since age 14, Pink formed the group Choice which disbanded in 1998. After that, Pink went solo and released her first single in 2000, "There You Go". That single topped at #7 on the Billboard hot 100 chart. P!NK has been changing the scope of pop music ever since.
Fans should lock in Pink tickets early for the best possible seats for this amazing show. As of this writing, the Pink tour is scheduled to run through December 14th with the last show at Philips Arena in Atlanta, GA. Pink and The Truth About Love Tour will have played at least 130 performances worldwide since the start. Fans should not miss a chance to see Pink perform songs off her new album plus many of her other great singles like "So What", "Raise Your Glass", "Sober", "Who Knew" and many others.
Pink tickets are officially on sale now and fans should lock in their desired seats and ticket packages immediately. Limited VIP pit and very few Fan packages are available now for most venues. Of course eCity Tickets has great seats in every price range and usually has tickets when others are sold out. As one of the leaders in secondary ticket sales, eCityTickets.com offers great seats with budget friendly prices and selection for the savvy fan. Get Pink tickets today and don't miss this great 2013 concert event.