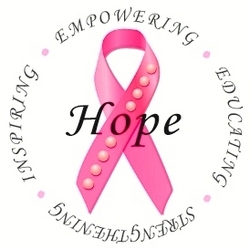 "A healthy lifestyle means more than just what we eat, but also what we do to maintain our body's overall health and wellness. Breast cancer screening for early detection is part of maintaining our health."
Cerritos, CA (PRWEB) September 15, 2010
Approximately, 20,000 African American women and 14,000 Latinas are expected to be diagnosed with breast cancer in this year of 2010. In both groups, the tumors are generally diagnosed at later stages, when the tumors are more difficult to treat, and these women are often younger than the average age for Caucasian women when first diagnosed. Pink Pearls of Hope is encouraging women of color to make early detection screenings a lifestyle. Pink Pearls of Hope want women to develop a three method screening approach (monthly breast exams, clinical breast exams, and mammograms (if you are age 40 or older) for the best possible option in early breast cancer detection. Breast cancer screenings are widely promoted by leading cancer and health organizations as playing a vital role in early detection. Despite these promotional efforts, women of color continue to underutilize screenings for breast cancer. A screening for breast cancer refers to tests and exams that find tumors in the breast and determine whether or not they are cancerous. Why are screenings important? They can find tumors or masses before symptoms are present and usually at an early stage, when the tumors are small and easier to treat. There are no guarantees that any singular mode of screening will find a breast tumor, however, screenings give women the best chance for of discovering a breast tumor early if it is there. Breast cancer screenings are performed by performing a Breast Self Exams (BSE) when a woman uses techniques to explore her breasts for lumps, masses, nipple drainage and/or any changes in the look, feel, shape, or texture; Clinical Breast Exams (CBE) are completed by a clinician who gently feels for lumps or masses in the breast, and changes in the look, feel, shape, or texture of your breasts; a Mammogram is an x-ray exam of the breast, which typically identifies a tumor before breast cancer symptoms are present; and for women who are at high risk for developing breast cancer, a Magnetic Resonance Imaging (MRI), which uses magnetic waves to create cross-sectional images of your breast, may be used to accompany a mammogram or to take a closer look at a particular area of concern after a mammogram has been examined.
African American women and breast cancer (American Cancer Society, 2010)

African American women have the highest rate of breast cancer diagnosis under the age of 45. Caucasian women have the highest diagnosis rate over the age of 45.
African American women have the highest death rate from breast cancer (at any age), and are 30% more likely to die than Caucasian women.
Aggressive tumor types (ER-negative and PR-negative tumors) are common in African American women and are associated with poorer prognosis for survival.
About 50% of the breast cancers found in African American women are at the earliest stage (local), compared to 63% for Caucasian women.
The 5-year survival rate for African American women is 78%, compared to 90% for Caucasian women.
The 5-year survival rate is lower for African American women, than for Caucasian women, at all stages.
About 50% of African American women obtained yearly mammograms in 2005.
Latinas and breast cancer (American Cancer Society, 2010; WebMD Health News, 2007)

Breast cancer is the most commonly diagnosed cancer in Latinas and is the most common cause of cancer death.
Latinas are 20% more likely to die from breast cancer, than Caucasian women, who are diagnosed at similar ages and breast cancer stage.
About 55% of Latinas have cancers found in the earliest stage (local), compared to 63% for Caucasian women.
Latinas have a nearly twofold higher risk of estrogen-negative cancer than Caucasian women.
Latinas have fewer mammograms than Caucasian and African American women.
Pink Pearls of Hope is sponsoring two campaigns and contests to encourage early breast cancer detection in women of color:
1) Protecting Your Mammories campaign - encourages women to schedule their yearly mammograms or clinical breast exams with a female family member or friend, to promote fellowship and support for early detection.
2) Breast Buddies Brunch campaign - promotes women celebrating their yearly mammograms or clinical breast exams with other females as a way to encourage fellowship and support of early detection screenings.
Printable coupons for restaurants are available on the Pink Pearls of Hope website (see printable coupons tab) to encourage women to celebrate early detection screenings with friends and a meal.
Contest rules and information:
A) 2 restaurant gift card prizes ($25.00 for Protecting Your Mammories and $50.00 for Breast Buddies Brunch), one each per contest, to 2 individuals who submits a story and picture about their participation in the Protecting Your Mammories or Breast Buddies Brunch campaigns. You can only win in one category.
B) The story should be at least 250 words about your experience with sharing your yearly exam with friends or family, in addition to, why you thought it was important to do so. Your story should include why you believe women should make early detection a lifestyle.
C) All entries should be emailed to Pink Pearls of Hope at PinkPearls_of_Hope(at)live(dot)com, or mailed to our address at: 11432 South Street, #385, Cerritos, CA 90703, no later than October 31, 2010 at midnight.
D) The winners will be announced on November 15th and their stories and pictures will be placed on Pink Pearls of Hope's website.
For more information about Pink Pearls of Hope Breast Cancer Organization, please visit their website at: http://www.hopeagainstbc.org. For additional information on breast cancer, you may also call or contact: The American Cancer Society at (800) 227-2345, National Cancer Institute (NCI) at (800) 4-CANCER, or Centers for Disease Control and Prevention (CDC) at (800) 232-4636.
###