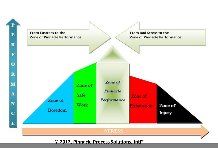 Allowing employees to train like Olympic athletes and be in the 'optimal zone' is not a luxury but an immediate priority for corporations and nations.
Austin, TX (PRWEB) October 30, 2012
Several neuroscientists have confirmed that stress can cause physiological disorders, lead to diseases and can also lead to permanent damage for some individuals. In the present day of intense global competition and extreme economic pressures, no one seems to want to understand the impact of stress on workplace productivity, student productivity and on long-term effects of a chronically stressed population. The CEO of Pinnacle Process Solutions, Intl®, LLC, and renowned expert on human development, leadership and innovative solutions, Adil Dalal, says, "No one is immune from the impact of stress - but young executives, managers and even students are most at risk for heart attacks, psychosomatic disorders and even cancer, all resulting from acute stress. This is not just a personnel problem; it is an organizational dilemma impacting national productivity. It needs immediate attention".
Dalal, a mentor to business and national leaders around the world on the concept of "appreciating assets", notes that the corporations are sometimes their own worst enemies and add to the stress rather than attempt to reduce it. Leaders in the organizations unknowingly perpetuate stress by their lack of direction, unclear requirements, poor planning, lack of understanding of individual stressors, extra-tight deadlines, over allocation or disproportionate responsibilities. This leads to burnout, poor performance, poor quality, increased failure rate, physical and emotional problems, team conflicts and overall inferior results.
According to Dalal, the human performance curve consists of five zones which represent the areas of stress levels that every person goes through:
1. Zone of boredom
2. Zone of safe work
3. Zone of fatigue
4. Zone of exhaustion
5. Zone of injury or breakdown
As stated in an article in Psychology Today, many employers push their workers past a productive level of stress to a zone of injury. Employees view their own lack of perfection as a failure further adding to their stress levels and reducing productivity. Even college students earned poor grades and a quarter of them dropped out due to stress which is sometimes misdiagnosed as boredom, according to a recent joint study by Columbia University and the University of San Diego. "Simple awareness of the zones of human performance can allow organizations to reverse the trend", says Dalal.
In his book, The 12 Pillars of Project Excellence, Dalal has identified the 6th zone called the Pinnacle Performance Zone™. The Pinnacle Performance Zone™ is similar to the zone in which great Olympic athlete's train– constantly pushing them just beyond the comfort zone for an ultimate breakthrough performance.
Dalal, the architect of this innovative philosophy says, "Pinnacle Performance Zone™ is an environment where optimal performances and breakthroughs are achieved by teams and by individuals". This zone allows employees, managers and leaders to work smarter not harder". When asked whether organizations can afford to train their employees like athletes, Dalal says, "Today, with the level of performance and accuracy required to be globally competitive; allowing employees to train like Olympic athletes and be in the 'optimal zone' is not a luxury but an immediate need not only for corporations, but also for nations."
Adil Dalal is the CEO and President of Pinnacle Process Solutions International ®. He is an author, entrepreneur, keynote speaker, innovator, radio show host, adjunct professor and an internationally recognized expert and thought leader in leadership, lean/flow technology and in project leadership. He is the author of The 12 Pillars of Project Excellence™, and co-author of The Lean Handbook: A Guide to the Bronze Certification Body of Knowledge.
For more information please visit Pinnacle Process Solutions, Intl.®, LLC at http://www.pinnacleprocess.com or contact Pinnacle Process Solutions at info(at)pinnacleprocess(dot)com or at (512) 212-1166.