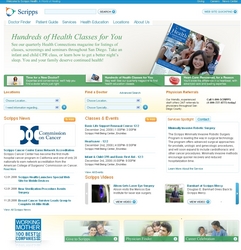 The patient's needs were always at the forefront of our minds when redeveloping Scripps.org. We wanted to make sure that the information important to them was easy to find and presented in a way that made sense to them
San Diego, CA (PRWEB) December 3, 2008
The newly-redesigned web site for Scripps Health (http://www.scripps.org) received a Gold award in the Best Site Design category of the 2008 eHealthcare Leadership Awards. The site also received a distinction in the Best Newsroom category.
Over 1,100 entries were received from a wide range of healthcare organizations.
Designed by nationally recognized web design firm PINT, Inc., the new site features clearer navigation into expert Scripps services, a doctor finder, a health education library, and health-related news items.
"The patient's needs were always at the forefront of our minds when redeveloping Scripps.org. We wanted to make sure that the information important to them was easy to find and presented in a way that made sense to them," said Marc Needham, Scripps Director of Web Technology.
Needham also commented, "The online marketing and information architecture experts at PINT were great to partner with. They really wrapped their heads around our unique challenges and presented thoughtful solutions."
The Scripps Health site serves as a gateway to trusted health information for both patients and the general public. Its interface is effective and user-friendly, with an emphasis on design elements that guide users directly to the information they seek.
More information and a list of winners is available at http://www.strategichealthcare.com/awards.
About Scripps Health:
Founded in 1924 by philanthropist Ellen Browning Scripps, Scripps Health is a $2 billion nonprofit community health system based in San Diego, Calif. Scripps treats a half-million patients annually through the dedication of 2,600 affiliated physicians and 12,300 employees among its five acute-care hospital campuses, home health care services, and an ambulatory care network of clinics, physician offices and outpatient centers. More information is available at http://www.scripps.org.
About PINT, Inc.:
Founded in 1994 and headquartered in San Diego, PINT Inc. is a nationally recognized interactive Web agency providing web strategy, interactive design, and online marketing services to clients around the globe. PINT founder Thomas Powell is the author of eleven best-selling industry textbooks on HTML and Web design. Clients include the San Diego Chargers, ViewSonic, Hewlett-Packard, Allergan, Biogen Idec, UCSD, Linksys, Scripps Health, and USC. More information at is available at http://www.pint.com.
###