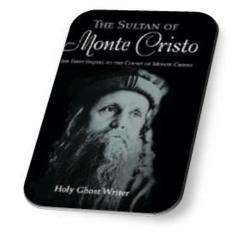 On Pinterest, love, laughter, heartache and pain lie within the soul of a man...
LOS ANGELES, CA (PRWEB) August 01, 2012
Ben Silbermann's exclusive social media site, Pinterest, has inadvertently catapulted an unknown author's book into stardom. Its users have been drawn in by the anonymity of the author whom they speculate must have suffered imprisonment like their favorite character Edmond Dantes of literary classic, The Count of Monte Cristo. While many text-laden users, such as news publishers, fail to gain traction on Pinterest, one wonders how an unknown author is garnering so much attention on a visual site for a short, but obviously, powerful sequel.
According to social media strategist and freelance writer, Josh Sternberg, "This comes back to how people use Pinterest." He also says, "It's not a site for discovering or sharing textual content, which is the business that The Atlantic, the New York Times and many other news publishers are in." That leads one to wonder if it's the mystery of the author's background that has people spinning? Is it the uncanny resemblance to the deceased Alexandre Dumas' writing style? Or the $1,000 prize and national recognition their publicist is offering to the first one who figures out the true identity of the author? Supposedly, the Holy Ghost Writer will make a cameo appearance in a subsequent sequel as one of the characters. No one knows exactly who (s)he is.
In a recent statement from the Holy Ghost Writer's anonymous publicist, "Going viral on Pinterest was not intentional, but there were so many Count of Monte Cristo fans utterly shocked that this phantasmal author penned a sequel in the same spirit as Dumas. So then the question arises, 'is the Holy Ghost Writer a descendent or spiritual medium' because the Sultan of Monte Cristo is unlike any book claiming to be a sequel." Maybe that's what these pinsters are in a frenzy about. One 'pinteresting' comment was, "The Holy Ghost Writer writes like he's Alexandre Dumas reincarnated! Spooky, which is why I loved his book even more." And as Dumas said, "Only a man who has felt ultimate despair is capable of feeling ultimate bliss."
Where publishing companies are now touting expensive book trailers, The Sultan of Monte Cristo took a slightly different approach on Pinterest simply using story graphics. According to their design company, the story graphics hint at specific scenes in the book. To some critics' surprise, it has worked well.
Recent statistics released by ComScore stated Pinterest has well over 10 million monthly unique visitors and is now the third most popular social networking site behind Facebook and Twitter. Its users are 68% women between the ages of 35 and 44. According to a recent article in Forbes Magazine, "Pinterest could be the next big social media giant."
Engaging sites, specifically Youtube, are notoriously known as being the medium whereby countless stars get discovered. Pinterest, on the other hand, is not. It's much harder to gain stardom on a mere pinboard, however, it seems that this 'spooky' ghost writer has done it, whether inadvertently or not.
About The Kimble Group, LLC:
The Kimble Group, LLC specializes in independent literary news and research to provide cutting edge, breaking stories.
About Pinterest.
Pinterest is a virtual pinboard that lets you put your favorite images on a single web page. You can share your "pins" with your friends or browse pinboards created by others.