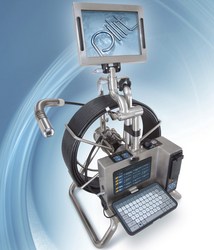 Melbourne, FL (Vocus) September 28, 2009
The new push camera or pipe inspection camera weighs in at only 32 pounds and can inspect industrial lines as small as 1.0 inch. The industrial remote visual inspection market has not had a camera that is either small or portable enough to inspect boiler tubes and other small diameter industrial pipes. The PILIT™ industrial push camera or pipe inspection camera will be a welcome tool for remote visual inspection professionals across a wide range of industries. AIT plans to offer the New Pilit™ push camera for sale and also add it to their existing pipe camera rental business.
The new PILIT™ push camera or pipe inspection camera offers users a variety of useful features:Stainless steel construction offers a durable and corrosion proof system, The only integrated push camera system means that you do not have to carry 2 separate components to the job site, Interchangeable camera heads of 1.0 (25mm) and 1.37 in. (34.8mm) diameter, offers versatility to inspection a wide range of industrial pipe line diameters, AC or DC power with up to 3 hours battery operation, 60 Gigabyte Hard Drive with USB File transfer of inspection files, Bright 7 inch LCD Monitor with mini key board.
The PILIT™ is designed for industrial remote visual inspection at power generation, petrochemical, process, food and pharmaceutical plants. Applications include: boiler tubes, floor drains, steam feed lines, process lines, cleaning validation, foreign material exclusion programs, ducting and general remote visual inspection of inaccessible areas.
About Advanced Inspection Technologies:
Headquartered in Melbourne, Florida, AIT is the industry leader in the sales and rental of Remote Visual Inspection equipment. AIT provides unparalleled 24x7 borescope rentals and infrared rentals, as well as foreign object search and retrieval tools. AIT's rental services and products enable companies to inspect machinery, facilities and infrastructure in the safest, quickest and most cost-effective manner possible. AIT's products have been used to improve the inspection process in all industries where image quality, safety, security and accuracy are of the highest concern, such as aviation, electric power generation, petro-chemical, manufacturing, predictive maintenance and infrastructure.
###