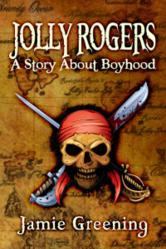 Holmen, Wisconsin (PRWEB) March 03, 2013
Young boys have several gadgets to entertain them these days. Amidst the age of iPad, Nintendo DSi, and Sony PlayStation comes Jamie Greening's short story of a time when boys dared to dream can create their own fantasy lands.
In Jolly Rogers: A Story About Boyhood, a group of boys and their chance meeting with an old man. All four end up on a time-travel excursion where they experience life as 10 year olds. Greening said he toyed with several plots for the story. In the end, he developed a story that allowed him to reflect what is like growing up at this age.
"I remember that age fondly," said the Port Orchard, Wash., author. "It is before the onset of adolescents and all of its problems, but at 10 a person is old enough to know what is going on, so there is freedom and independence."
The development of "Jolly Rogers" was quite thought proving. To establish the plot of the story, Greening had to recall the activities he played as a boy.
"When I was a little boy we played 'forts.' We would spend weeks and weeks building elaborate forts in the woods out of sticks, mud, cardboard and any other substance we could find. Then we would 'defend' these forts against pretend enemies, or we would lay siege against them. Usually we would each build our own fort complete with flags and ramparts which would result in a particularly violent version of capture the flag."
After Greening completed his analysis, he decided to use the pirate theme from beginning to end.
"'Jolly Rogers' is in part a remembrance of my past, a past which I am afraid no longer exists because boys just don't seem to play the way we used to," he reminisces.
Greening has penned four other stories published by Bard and Book Publishing. These are "Steve Chooses," "The Trinity is Not Mute," "Speculation," and the "2012 Collected Works Anthology." Aside from that, he has written a book called the "Haunting of Pastor Butch Gregory and Other Short Stories," contributed to the Abingdon Worship Annual for many years, and has both a novel and co-authored biblical studies tome that are now nearing publication.
Published by Bard and Book Publishing, "Jolly Roger" is available for the Kindle and is also available for download on Smashwords. Read more about Greening on his blog at http://jdgreening.wordpress.com/.