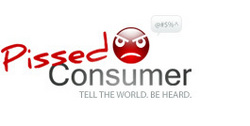 "If consumers and businesses want to reach us about their questions or concerns, they should always do so using the contact information publicly available on our site
New York, NY (PRWEB) March 1, 2010
U.S. consumer advocacy and customer complaints Web site, PissedConsumer.com, reminds consumers that they do not provide telephone support, regardless of misleading posts circulating online with a telephone number supposedly associated with the site. Consumers or company representatives seeking information should use the mailing address or e-mail form available on the contact page located at http://www.pissedconsumer.com/contact.html.
"PissedConsumer.com wants to make sure consumers don't inadvertently try to contact us using an incorrect phone number," said Joanna Simpson of PissedConsumer.com. "The phone number being associated with the site is not being published by PissedConsumer.com representatives, but by one or more third party sources."
The telephone number being incorrectly associated with the PissedConsumer brand name is an 877 toll-free number, ending in 0996. Initial research suggests that the number actually belongs to an Internet reputation repair and search engine services company, and not the consumer complaints site.
"If consumers and businesses want to reach us about their questions or concerns, they should always do so using the contact information publicly available on our site," said Simpson. "Despite the fact that this issue is out of our hands, we apologize for any confusion it might have caused to our users. At this time we recommend that they try to avoid the repeated messages posted around the Web, and visit the site directly if they need to contact us while we continue to look into this matter."
The false phone number has so far been published mostly on websites that allow user-submitted corporate profiles. The reputation management company at the advertised phone number is not associated with the reputation management services available through PissedConsumer.com. Details on PissedConsumer.com's official reputation management services can be found at http://www.pissedconsumer.com/reputation-management.html.
About PissedConsumer.com
PissedConsumer.com is a premier consumer advocacy group, featuring consumer reviews and complaints in a social networking environment. The company uses online tools to publicize reviews and complaints filed by consumers on the Internet. In addition, the site offers a set of free tools necessary to bring the dispute to a fast and successful resolution, including a consumer complaint letter generator and collection of consumer tips and advice in the site's consumer advocacy section.
For more information about PissedConsumer.com and the recent confusion over how consumers and company representatives can properly contact someone with the consumer complaints site, please visit PissedConsumer.com or contact Joanna Simpson at 262-674-6466.
###