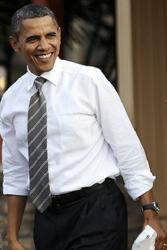 Los Angeles, CA (PRWEB) October 28, 2011
According to "Obama Foodorama", the official White House food newsletter and blog http://ow.ly/7cpgo), President Barack Obama was given his own case of Pit Bull Energy Drinks, as he left the world renowned Roscoe's House of Chicken 'N Waffles, on Pico Blvd., in Los Angeles, CA.
As part of his series of Los Angeles fundraisers and an appearance on the "Tonight Show with Jay Leno"; the motorcade surprised diners and restaurant staff as President Obama made an unscheduled stop, at Roscoe's. And true to his character as the peoples' President, he ordered the popular #9 menu item known as the Country Boy, which consists of 3 wings and a waffle and an a la carte serving of potato salad and fries.
Upon his departure while mingling with customers, signing autographs and friendly conversations the President was gifted with the company's popular Blueberry Pomegranate flavor. This is iconic considering that Pit Bull Blueberry Pomegranate Energy Drink is the energy drink of choice that the US Army provides to its troops, in the war zones of Kuwait, Iraq and Afghanistan. The Commander-In-Chief along with the First Lady, are known to practice healthy lifestyles and are sure to enjoy this signature product sanctioned by the military based upon healthy essential vitamins, and a "guaranteed no aftertaste."
Military veteran and CEO of Pit Bull Energy Products, is elated by the President's visit to Roscoe's, and acceptance of the Pit Bull Blueberry Pomegranate Energy Drink. For those not familiar, Roscoe's owns the Pit Bull Brand and the energy drink is a staple item on the menu. Pit Bull Energy Products' CEO proudly stated that, "We serve our troops on the war front lines with this healthy great tasting energy drink and now we're proud to serve it to our Commander-In-Chief."
Well now we know why the President stopped by Roscoe's and how he got a case of the Pit Bull Blueberry Pomegranate Energy Drink. The Commander-In-Chief is due a refund, because during the excitement of his visit, he was supposed to have received Roscoe's 50% discount to all military personnel. Just like the Commander-In-Chief and the US military warfighters, you too can enjoy this great product.
The Blueberry Pomegranate Energy Drink can be ordered on line at http://www.pitbullenergyproducts.com. An as an added bonus, you can enjoy quick delivery and free shipping. For more information call toll free: 800-686-3697 or email us, at info(at)hiphopbev(dot)com.
###