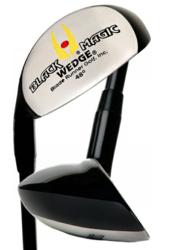 Simplify Your Short Game with a 48 Degree Pitching Wedge by Black Magic Wedge
Nationwide (PRWEB) February 25, 2013
Golf enthusiasts, club pros, scratch golfers and amateurs alike can now harness the full potential of the Black Magic pitching wedge. An instant hit, Blade Runner Golf's hybrid pitching wedge will eliminate a shank shot and reduce chunking, giving players clean shots from the rough, off the fairway or from the cusp of the bunker. The company's hybrid pitching wedge may not be the first of its kind, but the advanced technology makes this 48 degree "no hosel" configuration, which provides this pitching wedge with decided superiority.
Impeccably engineered and crafted, the Black Magic pitching wedge has racked-up some impressive credentials. Club pros and many average golfers have found this wedge an absolute shot saver from 125 yards and in. Distance will vary according to swing speed.
Designed specifically to address the needs the majority of golfers face, this 48 degree pitching wedge gives fast lift necessary to avoid the many obstacles necessary to get over while approaching the green even from the rough or a tight lie.
"When a golfer finds that they need a significant amount of pitching but feels unsure about their swing, club selection becomes paramount. Yet, in many instances, players haven't developed their short game. As a result, their pitching, chipping, sand and gap wedges are akin to shots in the dark. Because their swing is lacking in some respect, the club they choose to use becomes very important," a company spokesperson noted about the demand for a hybrid pitching wedge that can limit shortcomings.
Blade Runner Golf introduced its line of Black Magic clubs to help players struggling to overcome key parts of the game. The company points out that many players haven't taken formal lessons, and even those who are properly trained sometimes hold onto bad habits, "They may or may not know what they're doing to sabotage their swing. Many golfers fall back into their comfort zone--even when it means degrading the quality of their swing. We want to help."
About
Blade Runner Golf, Inc. is a company that is very serious about the notion that a golfer's short game can make all the difference in his or her final score—and that players can take their short game to the next level if they only have the right club from which to choose. Black Magic's hybrid wedges Conforms to USGA Rules, but also helps golf enthusiasts find new precision and power as they make their way onto the putting green. Black Magic Wedge can be reached on the web at http://www.blackmagicwedge.com.
Contact:
Black Magic Wedge
2519 McMullen Booth Rd
Suite 510-129
Clearwater, FL 33761
Toll Free Phone: 877-799-6099
sales(at)blackmagicwedge(dot)com