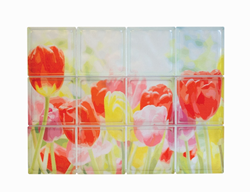 (PRWEB) March 10, 2015
Pittsburgh Corning, the leading glass manufacturer of applied glass technology, recently released The Expressions Collection. The decorative glass block line is available by contacting Pittsburgh Corning glass block distributors.
As an innovator in glass technology, Pittsburgh Corning developed the customizable glass block application for use in commercial, educational, government, institutional, and residential buildings. Glass block is a traditionally versatile building material, but the Expressions Collection allows glass block to become a critical design element for any room or building. The Expressions Collection uses a patented process to add design, color or customization to any size or pattern of glass block.
"Individual glass blocks are sublimated with images that become part of the glass allowing architects and designers to easily add custom designs to their projects," said Aaron Liberatore, Industrial Designer for Pittsburgh Corning.
The Expressions Collection helps to enhance the cosmetic appeal of a traditional glass block, but maintains the functional benefits of security, privacy, light transmission and fire ratings. The decorative glass blocks are able to complement any application. A variety of images and murals are in stock using the 8"x8"x4" nominal size glass block in the DECORA pattern.
Pittsburgh Corning suggests using the decorative glass blocks for a wide range of purposes:

Healthcare Facilities
Schools and Universities
Sport Complexes
Retail Space
Community Centers
Corporations
Wayward Signage
The ornamental blocks can also be used in a private home for individual expression, as well as to showcase a unique work of art.
For more information about The Expressions Collection, please visit PittsburghCorning.com
About Pittsburgh Corning Corporation
Located in suburban Pittsburgh, Pittsburgh Corning is the leading glass block manufacturer of applied glass technology and systems for construction materials. Since 1937, Pittsburgh Corning has been on the forefront of innovative architectural glass block systems designing products that stand the test of time. As a leader in glass technology, Pittsburgh Corning provides glass blocks, high performance systems, cellular glass insulation, high performance windows, and designer shower kits for commercial, institutional, government and residential building applications. For more information visit PittsburghCorning.com.