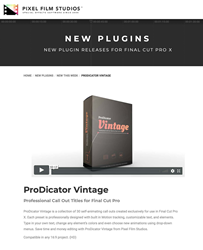 "ProDicator Vintage adds unique vintage styles to fully customizable callouts perfect for any Final Cut Pro X project."
ALISO VIEJO, Calif. (PRWEB) January 21, 2019
ProDicator Vintage is a collection of 30 self-animating call outs created exclusively for use in Final Cut Pro X. Each preset is professionally designed with built-in Motion tracking, customizable text, and elements. Type in custom text, change any element's colors and even choose new animations using drop-down menus. Save time and money editing with ProDicator Vintage from Pixel Film Studios.
ProDicator Vintage includes 30 call out titles created exclusively for Final Cut Pro X. This way users have plenty of variety when displaying call outs. Each ProDicator Vintage preset is adaptable to any project and features customizable animations, colors, and more.
ProDicator Vintage is perfect for highlighting content in any video. Just replace the text with the content of the video and set a desired animation. Users can adjust the style controls to have it match the underlying media.
Alternatively, use ProDicator Vintage to display detailed information on a product. ProDicator Vintage provides users with a great way to add interest to any subject.
ProDicator Vintage includes on-screen controls so that users can reposition, resize and rotate titles with complete ease. Just move the puck reposition, the dial to rotate and adjust the ring to resize. Customize any element's color by simply using the picker to select the preferred color. ProDicator Vintage lets users customize presets to perfection.
Established in 2006, Aliso Viejo, California-based Pixel Film Studios is an innovative developer of visual effects tools for the post-production and broadcast community. Their products are integrated with popular non-linear editing and compositing products from Apple FCPX. Apple, the Apple logo, Mac OS X, and Macintosh are registered trademarks of Apple Inc. in the U.S. and/or other countries. All other trademarks and trade names are the property of their respective owners.