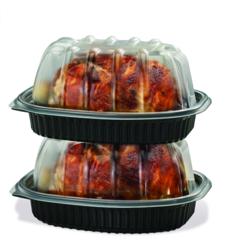 Sustainability is, and will continue to be, a large driver of food packaging choices for today's eco-conscious consumer and retailer
Madison, WI (PRWEB) March 19, 2013
Placon, a leader in the design and manufacture of custom and stock thermoformed food packaging products and recycled PET materials has redesigned its market-leading HomeFresh® Rotisserie Chicken Container to reduce its overall usage of petroleum-based resins.
An industry staple, Placon's patented 2-piece container has led the rotisserie chicken packaging market with its attractive design and reliable, tight-fitting polypropylene lid and base. With reduction of petroleum-based resins the driver for change, Placon looked to reengineer the packaging utilizing a calcium carbonate (CaCOȝ) filler in the container's base. An inorganic mineral filler, calcium carbonate is commonly used in polypropylene food packaging containers due to its numerous beneficial attributes.
"Sustainability is, and will continue to be, a large driver of food packaging choices for today's eco-conscious consumer and retailer," states Jeff Lucash, Director of Sales - Stock Products. "Companies are continuously in the market for packaging that meets a number of important criteria – from being functional to having shelf impact all while meeting sustainability objectives."
Besides replacing the usage of petroleum-based, virgin material, the chemically inert, food-safe filler has led to enhancements in the product's mechanical properties. "Throughout our development process, it was important for us to design a package that not only reduced our carbon footprint, but equally importantly, would not sacrifice what has made the containers so popular - their strong visual appeal and structural integrity," states Lucash.
For more information about the HomeFresh Rotisserie Chicken Container or other food packaging products, contact Placon at 800.541.1535 or email info(at)placon(dot)com.
About Placon
For over 45 years Placon has been a leading designer and manufacturer of custom and stock thermoformed packaging products as well as environmentally-friendly extruded sheet materials for the retail, food and medical markets. Continuously setting the bar in thermoform packaging and sustainable material solutions, Placon provides innovative, high quality and safe packaging products that harness the power of tomorrow's technology and design to solve customers' challenges today. According to Plastic News, Placon ranks among the top 20 thermoformers in the U.S.