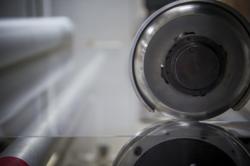 Our vision is to completely close the loop - have our packages used and consumed, collected and then reused again
Madison, WI (PRWEB) March 21, 2013
Pushing beyond industry standards in packaging design and sustainability is nothing new for Placon, a leader in the design and manufacture of stock and custom thermoformed products as well as recycled PET extruded sheet. In this month's Plastics Technology feature article "Sheet Operation Closes Loop on PET Recycling", the magazine focuses on parent company, Placon's, EcoStar recycling and extrusion process.
As one of the first thermoformers to build its own in-house recycling facility to process and extrude sheet from post-consumer bottles and thermoforms, EcoStar is one of the largest operations of its kind in the Midwest US. With a vision to "close the loop", the EcoStar facility reprocesses up to 120,000 lbs/day of post-consumer recycled PET bottles and thermoforms which are then extruded into food and non-food grade PET sheet for packaging and other applications.
To read the entire article visit http://www.ptonline.com. For more information about EcoStar PET sheet materials, please call 800.480.8940 or visit http://www.ecostarplastics.com.
About Placon
For over 45 years Placon has been a leading designer and manufacturer of custom and stock thermoformed packaging products as well as environmentally-friendly extruded sheet materials for the retail, food and medical markets. Continuously setting the bar in thermoform packaging and sustainable material solutions, Placon provides innovative, high quality and safe packaging products that harness the power of tomorrow's technology and design to solve customers' challenges today. According to Plastic News, Placon ranks among the top 20 thermoformers in the U.S.