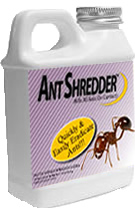 The biggest mistake is to leave food and garbage out where ants can find it.
(PRWEB) April 25, 2012
According to researcher Justin Douglas of Planet Amazing, microcrystals were originally used by farmers to protect their crops, having been developed by scientists as a non-toxic way to treat ant and other bug infestation problems. Now Planet Amazing has a new product for treating ant infestations and killing ants.
Ants are common and cause problems for people in every part of the world. Planet Amazing has a new report that points out the best ways to get rid of ants indoors. Different types of ants come indoors to forage for food, but some species of ants will make their home indoors, says new report. There are many suggestions floating around on the internet that should be avoided, says Justin Douglas of Planet Amazing, because most of them involve poisons.
"The Planet Amazing treatment is non-toxic and safe for plants, humans and pets, and it works great to get rid of ants," says Mr. Douglas. "But you still should use some wisdom in preventative measures, such as making sure that there is no food left out. Sealing entrances to your home is also advised, such as putting caulk around windows and weather stripping on doors. Windows and doors are the two main places where ants first enter your home. With Ant Shredder from Planet Amazing you can kill ants naturally and safely, all kinds of ants, indoor ants and outdoor ants, says the report."
The report says that keeping food sealed up or refrigerated, and trash emptied regularly, is important for getting rid of ants indoors. The long marching lines that ants form when they are foraging can be lightly dusted with the Ant Shredder powder from Planet Amazing, and if you know where the ant colony is actually living, dusting it with powder is an effective strategy. "Follow the instructions that come with Ant Shredder and you will be OK," says Mr. Douglas. "The Ant Shredder powder will not hurt anyone or any pet, just the ants. But most of the other products out there, even borax and other solutions, can have poisonous effects with children and pets, so it is important to avoid these if possible. That is why we have brought this fantastic non-toxic ant treatment solution to the market."
He says the ants affected by Ant Shredder are:

Fire ants
Black ants
Carpenter ant
Argentine ants
Harvester ants
Sugar ants
Leafcutter ants
Brown ants
White ants
Ants with wings
Tiny ants
Tree ants
Garden ants
For those people who are looking for how to kill ants and ways to kill ants in the house, all types of ants can be eliminated with Ant Shredder, says Mr. Douglas. Getting rid of ants naturally can be achieved with the Ant Shredder product.
For more information, visit the Ant Shredder ant control website.
About Planet Amazing
PlanetAmazing.com is the premier manufacturer and distributor of a wide range of organic and inorganic "GRAS" solutions that anyone…no matter their experience…can use to eliminate real everyday problems.