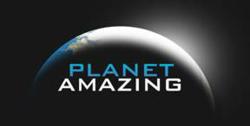 (PRWEB) April 28, 2012
Planet Amazing has a new report which suggests that organic foods and products, and non-toxic environmentally friendly solutions are preferred in many places in the United States, especially as traditional products become less effective. "How does a traditional product become less effective than the latest organic replacement?" asks Justin Douglas, lead researcher for Planet Amazing. "Take insects for example, who have become immune to the chemicals found in toxic pesticides used over the last 50 years in the USA. Imagine the surprise and horror of people who have started to treat insect infestations and found that the insects will survive almost any chemical treatment. The same chemicals that treated insect infestations 30 years ago are now not as effective due to the immunity that many insects have built up"
Mr. Douglas says that it is possible to get rid of these insects and avoid the toxic chemicals completely. "We know that organic foods and non-toxic solutions are far more popular today than in the past," he says. "We know that almost all grocery stores now have organic food departments. In the same way, homeowners are preferring to use non-toxic solutions that are safe for their family and pets, while still treating the insect infestations."
Planet Amazing also has non-toxic solutions for grout cleaning, rust removal, pet urine cleanup and deoderizer, horse cribbing and more. The Planet Amazing goal is to provide 100% non-toxic products and do it in a way that is friendly to the planet and does not leave an environmental footprint.
For more information, visit the Planet Amazing website.
Planet Amazing is an EPA registered manufacturer and packager of family-friendly and environmentally safe pesticides and other products. Planet Amazing sets high standards for their operating companies in the area of environmental responsibility — striving for performance that does not merely comply with regulations but reduces the environmental impact. They commit to take care of our planet and preserve its beauty, resources and strength for future generations. Planet Amazing embraces research and science - bringing innovative ideas, products and services to advance the lives and well-being of people. Employees of the Planet Amazing Family of Companies work with its partners in order to touch the lives of people every day, throughout the world.