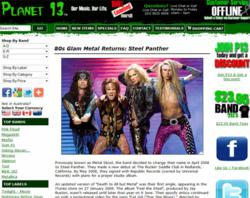 Even if you're not a fan of 80s glam metal, it'll definitely make you laugh – and that's what this whole world needs right now. A good laugh.
Melbourne, Victoria (PRWEB) May 21, 2012
Since 2008, the 'global financial crisis' has reached all corners of the globe; economies are struggling and masses of workers are losing their jobs. The serious downturn of events has dampened the spirits of many people, so it's no wonder they're desperately looking for an escape from their dreary reality.
80's glam-metal tribute band Steel Panther, are gliding through this recession in their skin-tight spandex and teased-up wigs, all while playing a variety of popular hard rock songs from the genre they represent.
Steel Panther was a raging success at the Soundwave Festival (Australia) earlier in 2012, bringing their tongue-in-cheek humor to thousands of new fans.
"It's just what this generation needs," says Shawn, front-man of once popular glam/punk band Voodoo Lovecats and current owner of online retail store Planet 13™, "everything is so negative nowadays, people need light-hearted fun, and that's what Steel Panther bring to their shows."
Steel Panther's tour will see them back in Australia this October. "I can see why Steel Panther are returning so quickly," continues Shawn, "we're [Australians –ed.] known for being unrivalled supporters of all music."
The band mixes their over-the-top attitude with true musicianship, "they can really play – no joke. They're like listening to the actual bands they cover" says Shawn about Steel Panther, "except, they're a bit more hilarious in between songs with their antics, and get the crowd laughing a lot."
"The theatrical Rock of Ages was a big success here last year," continues Shawn who admits to going to see the show twice, "and it's very clear that people are ready to have some fun and enjoy themselves, whether it be going to a show or just buying merchandise, this recession is going bring out some good times for people with bands and shows like this."
Having seen Steel Panther numerous times during his trips abroad, Shawn recalls "the crowd just don't care if they look a bit silly themselves, punching the air and head banging, when they're at a Steel Panther show – they just enjoy themselves – I could swear it's the 80s all over again."
He continues, "If you haven't seen Steel Panther before, you need to go. Even if you're not a fan of 80s glam metal, it'll definitely make you laugh – and that's what this whole world needs right now. A good laugh"
Steel Panther will be returning to Australia in October 2012, and tickets are now on sale at http://www.oztix.com.au
A bit about Planet 13™
Planet 13™ was conceived and created by Shawn, front man of the once-popular Melbourne-based glam/punk band Voodoo Lovecats. His online store Planet 13 http://www.planet13.com.au has all varieties of music, band, and entertainment merchandise – including 80s hard rock and glam metal.