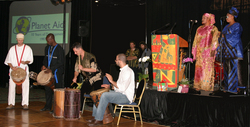 Site Host Ten Year Partner in Development
Boston, MA (PRWEB) September 21, 2007
Planet Aid, a non-profit organization founded in 1997 to raise funds for social development, celebrated their 10 year anniversary on Saturday, September 15th, 2007, at the Glen Ellen Country Club in Millis, Massachusetts. Planet Aid supports developmental aid projects in Asia, Africa and Central America, including building schools and clinics, developing farmers clubs and leading HIV/AIDS outreach programs. Planet Aid has grown rapidly since its inception and currently collects used clothing from over 8000 donation boxes in 19 U.S. states, including their newest location in Omaha, Nebraska.
The Boston-based charity, headquartered in Holliston, Massachusetts, works with Humana People to People on over 50 developmental aid programs. Humana and Planet Aid have worked together to help 7.5 million people a year through 250 social projects in 30 countries, including teacher training, vocational schools, farmers' clubs and Total Control of the Epidemic (TCE) programs. Some of these projects are augmented by federal grants and corporate donations, such as the USDA's recent $6 million Food for Progress grants to support a 3 year soy program in Mozambique, and a similar program in Malawi.
Since its incorporation in 1997, Planet Aid's distinctive yellow bins have collected over 280 million pounds of clothes in 19 states. Planet Aid is currently the largest clothing collection and recycling organization to run a used clothing collection box program, and, over the past decade, those donation center bins have helped Planet Aid raise $13 million in support of over 50 development programs.
To celebrate "10 Years of Development," the Planet Aid anniversary event featured speakers and entertainers who represent the people and programs that have contributed to their fundraising endeavors and humanitarian projects over the years. The event not only celebrated the progress made so far, but recognized the individuals who have helped achieve Planet Aid's goals thus far, and encourages them to continue.
A welcome reception kicked off the event, highlighting Planet Aid's ten year journey, and was followed by an anniversary dinner and music provided by Sidi Mohamed Camara, an accomplished musician and teacher. Camara grew up learning traditional West African dance and drumming, and now creates contemporary arrangements that infuses those traditional beats with funk, jazz, blues and reggae influences.
Camara's performance set the stage for the awards presentation for outstanding patrons, employees and donation centers. Honored guests included Dennis Minnehane (Minnehan's Flowers) recipient of the "Site Host Ten Year Partner in Development" award; Jorge Quinones (All American Clothing), Guy LeBlanc (Arcadian Wipers) and Ron Rosoff (Rosoff Associates), who received "Customer Partner in Service" Awards; and Dennis Prifti (LB Graphics) the "Vendor Partner in Service" award winner.
Planet Aid also recognized some of its own by presenting the "Employee Ten Year Service Award" to Jon Leisz, Jostein Pedersen and Desideiro Santana, and donating $2000 to the RP Foundation on behalf of "Employee Service Award" recipient Ron Perryman.
You can read more about the "10 Years of Development Celebration," and other Planet Aid events, such as the recent Lee USA Speedway Hobby Stock Car Race on the Planet Aid Blog.
###