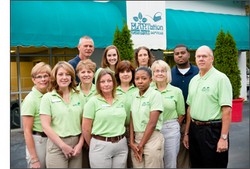 PLANTation Services is now on the cutting edge of Internet technology
Little Rock, AR (PRWEB) September 9, 2010
PLANTation Services is pleased to announce the creation of their new website at PLANTationServices.com. "By using the best content management system available, PLANTation Services is now on the cutting edge of Internet technology," said founder Tina Shelby. "This new site makes it easier to publish important news and information in a timely manner."
The new site features a stunning photo gallery that features the company's work in hotels, hospitals, offices, and retail environments. Additionally, visitors can see information about the services offered by PLANTation, read their blog, and get helpful indoor plant tips from the site's FAQ section. The site was created in partnership with iProv, LLC of Little Rock.
One major aspect of the new site is the use of Joomla, an open source software platform. Joomla eliminates the dependency on commercial software vendors who provide rigid frameworks with little room for customization. Joomla also allows the staff at PLANTation Services to publish information to their site and blog quickly and easily.
PLANTation Services is Arkansas's largest indoor plant maintenance company. Led by two degreed ornamental horticulturists, and 30 years of plant maintenance and design experience, they serve over 500 customers. The "green team" at PLANTation Services is poised to exceed your expectations for best in class interior plant maintenance services. What you normally call a houseplant they know to be Mother Nature's clean air machine. An additional benefit of having live, professionally cared for plants is that they provide a comfortable, feel good atmosphere for your staff and clients. Studies have shown that live office plants enhance employee productivity and improve physical and mental health.
PLANTation Services also provides short-term rental plants for special events such as weddings, banquets, trade shows, anniversary parties, pool parties and any other special event you might throw. They deliver "gift plants" for all occasions, and even larger plant arrangements to congratulate your associates or friends on promotions or office moves.
iProv, LLC is an Arkansas web design and marketing company. For more information visit http://www.iProvWeb.com .
Contact:
Tina Shelby
501-821-5770
http://www.PLANTationServices.com
###