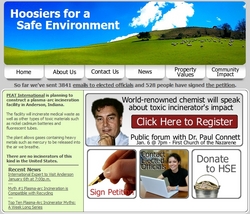 PEAT representatives have stated the plant will emit mercury
Anderson, IN (PRWEB) December 31, 2008
Chemist Paul Connett, Ph.D., who has 23 years experience with waste management technology, will speak at a public meeting about the health risks and effects of toxic incinerator plants on communities. The free public meeting on Tuesday, January 6 at 7 p.m. at the First Church of the Nazarene in Anderson has been planned by community residents against the proposed PEAT International waste treatment facility. PEAT representatives have also been invited to speak at the meeting.
Connett has agreed to come to Anderson at no charge stating, "I am glad to help Anderson in any way I can." Dr. Connett is a graduate of Cambridge University and holds a Ph.D. in chemistry from Dartmouth College. In May 2006, he retired from his full professorship in chemistry at St. Lawrence University, Canton, NY, where he taught for 23 years. His specialty was environmental chemistry and toxicology. Over the past 23 years his research on waste management has taken him to 49 US states and 50 other countries, where he has given approximately 2000 public presentations. He has co-authored 6 peer reviewed articles on dioxin and numerous other articles on waste management.
"PEAT representatives have stated the plant will emit mercury," said Corby LaChat, co-chairman of the Residents Against Medical Waste Incinerators. "Mercury is known to cause birth defects, Alzheimer's, ADHD and other health problems. This type of technology is also known to emit dioxin, which causes cancer. PEAT representatives have stated that the plant's emissions are within safe levels, but research indicates that no levels of toxins, such as dioxin, are safe."
LaChat added, "Dioxin has been found in the milk from cows in communities with incinerators, so this plant will have an effect on farmers in the area and the new Nestle's dairy beverage facility. Emissions from the plant travel hundreds of miles, so the health of our entire community is affected. Children and babies are at particular risk, and the plant is within a few miles of two schools. Research also indicates that property values in communities with incinerators can fall by 20%. We want the community to hear research from an independent chemist who is familiar with this technology and has no financial stake in the project."
Hoosiers for a Safe Environment has launched a website at http://www.HSEIndiana.com where citizens can sign an online petition or email elected officials. The site also contains a news section with facts and videos about plasma-arc incineration.
###