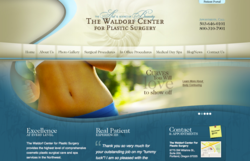 Portland, OR (PRWEB) March 01, 2012
As a part of her commitment to providing patients with the latest in cosmetic enhancements, Dr. Kathleen Waldorf, a plastic surgeon in Portland, recently announced the release of a new website for her practice. Focused on plastic and reconstructive procedures ranging from breast augmentation to BOTOX® Cosmetic, Dr. Waldorf says the new site is targeted to offer a high quality, enriching online experience to both her current and prospective patients. The website combines in-depth content about her surgical, non-invasive, and medical spa treatments with advanced graphics and designs.
Notable features of the new site include an extensive drop-down menu and tabs linking to inside pages that cover every aspect of the plastic surgery process from initial consultation to post-operative recovery. Dr. Waldorf says she is particularly excited about the enhanced graphical layout and aesthetically designed interface. Patients also have the opportunity with the new site to browse her results gallery of procedure outcomes as well as the latest news and specials from her practice. Dr. Waldorf also says social media connectivity to Facebook will allow her the opportunity to extend patient care and services to her online community.
After developing the website in partnership with Rosemont Media, a medical website design firm based in San Diego, Dr. Waldorf says she is confident that patients will find the new site an easy to navigate and useful resource designed to meet all of their aesthetic enhancement questions and concerns. She says she is excited about her ability to continuously improve and perfect her patient care and results.
About Kathleen Waldorf, MD, FACS
Dr. Kathleen Waldorf completed her undergraduate education, medical degree, and general surgery training at Georgetown University, followed by a Plastic and Reconstructive Surgery residency at Oregon Health Sciences University. She is board-certified by the American Board of Plastic Surgery and a Fellow of the American College of Surgeons. Dr. Waldorf is also a member of the American Society of Plastic Surgeons, the American Society for Aesthetic Plastic Surgery, the Oregon Medical Association, the American Cleft Palate-Craniofacial Association, and several other professional organizations. She is on active staff at Legacy Portland Hospitals and Providence St. Vincent Medical Center, in addition to serving as a current member of the Cleft Palate Team at Legacy Emanuel Children's Hospital where she works to surgically correct cleft lip and palate deformities.
Located at 9775 SW Wilshire St., Suite 200 in Portland, OR, Dr. Waldorf and the Waldorf Center for Plastic Surgery, can be reached at (503) 646-0101 or (800) 310-7901. She can also be contacted online via the website waldorfcenter.com or facebook.com/pages/The-Waldorf-Center-for-Plastic-Surgery/154056342308.
###