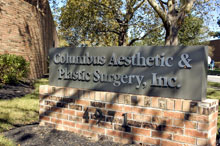 Columbus, OH (PRWEB) May 25, 2012
The Consumers' Choice Award announced the Central Ohio businesses honored in 2011 with a Consumer's Choice Award for Excellence in Customer Satisfaction. Among the 75 business honored was Columbus Aesthetic and Plastic Surgery (CAPS), the largest private Columbus plastic surgery practice. CAPS services includes a broad range of cosmetic surgery procedures, laser skin treatments, laser hair removal as well as professional medical spa skin care products and treatments.
"We at CAPS feel this award reflects our dedication to listening to and understanding our patients. We strive to offer a comfortable and caring environment in our Columbus plastic surgery office," notes Dr. Susan Vasko, a founding surgeon in the practice. "We appreciate the effort our patients have made in order for us to receive this recognition."
"Years of experience, study and expertise are necessary traits to look for in a surgeon, but we feel these factors are just part of what it is important to our patients," adds Dr. Timothy Treece. "We demand the best from our entire staff and from ourselves, and we stress first and foremost the patient's experience in our office. The Consumer's Choice Award is an honor we are very proud of."
The award is based on a survey of residents and businesses in the Columbus Metropolitan area responding to a questionnaire on customer satisfaction. The survey was conducted by Survey Sampling International®, a global leader in customer satisfaction studies.
"Awards like these are both an honor and great reminder that the job of a plastic surgeon encompasses more than just the technical aspects of surgery and non-invasive procedures," notes Dr. John Wakelin "At CAPS, we have been focusing on providing the very best in patient care and well-being for years, and this sort of recognition reinforces the importance of that focus. "
Dr. Robert Heck, board-certified plastic surgeon agrees. "This Consumer's Choice Award is most rewarding because it is recognition from the patients themselves," he adds. "The purpose of our work is to serve the patient, and this, along with positive feedback and reviews from our patients, confirms that our approach -- listening to the patient, spending time to get to know our patients, and crafting individual treatments -- is the correct one."
The Consumers' Choice Award®, established in 1987 to identify and promote business excellence, utilizes a unique survey that asks consumers to choose the best of their city.
Respondents are randomly selected from both the business community and the general public. Based on the criteria of value, professionalism, service and any other issue they may wish to consider, respondents are asked to select the company/practice that most merits the Consumers' Choice Award® for business excellence.
This fall the Consumers' Choice Award will commission its fifteenth annual survey in order to identify the recipients for 2012.
About Columbus Aesthetic and Plastic Surgery | The Medical Spa at CAPS
Columbus Aesthetic and Plastic Surgery consists of four Ohio based board-certified Columbus plastic surgeons: Dr. Timothy Treece, Dr. Susan Vasko, Dr. Robert Heck and Dr. John Wakelin, a team of highly skilled medical aestheticians, laser skin treatment team, and laser hair removal specialists, as well as four full service Medical Spa locations in Upper Arlington, Easton Town Center, Dublin Salon Loft, and the Westerville Salon Loft.
We are dedicated to creating an enjoyable, stress-free and thoroughly rewarding experience for our Ohio patients - from your initial cosmetic surgery, plastic surgery or reconstructive consultation to your last post-operative visit. Our job is to help you realize your aesthetic goals and to help enhance the confident, beautiful person you already are.
At Columbus Aesthetic and Plastic Surgery our goal is to make your cosmetic goals a reality and we work to make that happen for each and every one of our patients.
Columbus Aesthetic and Plastic Surgery offices are located in Upper Arlington at 4971 Arlington Centre Blvd, Upper Arlington, OH 43220, and also at Easton Town Center at 4030 Easton Station, Suite 260, Columbus, OH 43219. Two additional Medical Spa locations offering professional skin services are in the Dublin, OH and Westerville, OH Salon Lofts.
They can be reached at (614) 246-6900 and at http://www.ColumbusPlasticSurgery.com