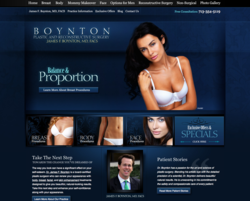 Houston, TX (PRWEB) September 15, 2011
Board-certified plastic surgeon Dr. James Boynton is announcing the release of a new website for his Houston plastic surgery practice that he hopes will foster an educational and engaging experience for patients. Dr. Boynton says he wants to use the website to provide a database of resources for patients seeking information about procedures including liposuction or breast augmentation in Houston. He and his practice are launching the site in the hopes of offering patients an interactive and easy-to-navigate platform for browsing surgical and non-surgical cosmetic procedures, as well as practice information, before-and-after galleries, and 3D video demos.
One of the main features of the site is a specific page devoted to step-by-step videos displaying visual, 3-dimensional models outlining the procedure process and what patients can expect from each option. Coupled with social media buttons and dynamic graphics, Dr. Boynton says the website offers an engaging online experience for patients considering plastic surgery. By interacting with patients using the Internet, he says that he wants to aid in the decision-making and research process by extending the dedicated care he provides at his practice to patients online.
Dr. Boynton collaborated with Rosemont Media, a San Diego-based medical website design firm, to create the custom site for his practice. With detailed drop-down menus and procedure-specific pages, Dr. Boynton says the website combines his personalized approach to patient care and information with the wealth of resources and connectivity of the Internet.
About James F. Boynton, MD, FACS
Dr. James Boynton received his undergraduate degree from Duke University and his medical degree from the University of Texas Medical School at Houston. He completed his residency training in Plastic Surgery and a fellowship in Microsurgery research at CHRISTUS St. Joseph Hospital, as well as a General Surgery residency at Good Samaritan Regional Medical Center and a fellowship in Hand Surgery at Baylor College of Medicine. He is board-certified by the American Board of Plastic Surgery, and is a member of the American Society of Plastic Surgeons, the American Society for Aesthetic Plastic Surgery, the American College of Surgeons, and many others.
With two locations at 12727 Kimberley, Suite 300 in Houston and at 4400 Post Oak Parkway, Suite 2260 in Houston, Dr. Boynton can be reached at (713) 354-5119 and online via boyntonplasticsurgery.com or facebook.com/DrBoynton.
###