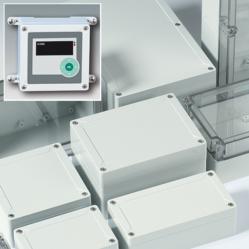 IN-BOX is the toughest range of enclosures that OKW has ever manufactured.
Fareham, Hampshire (PRWEB UK) 28 March 2013
UK plastic enclosures manufacturer OKW has launched IN-BOX – its toughest ever range of industrial-strength housings.
IN-BOX has all the design features and attention to detail you would expect from OKW but has been built to cope with extremely demanding industrial environments.
These robust IP66 and IP67 electronics enclosures are manufactured from ABS (UL 94 HB). They are also available in Polycarbonate (UL 94 V-2).
The ABS version of IN-BOX is impact-rated to IK07 (2 joules) while the stronger Polycarbonate version is rated to IK08 (5 joules).
Applications for IN-BOX wall mounted enclosures will include industrial electronics such as digital and analogue instrumentation, sensors, interfaces and security systems.
This highly versatile range of enclosures is also ideal for electrical applications such as heating, climate and ventilation systems, machine controllers and construction equipment.
IN-BOX is a smart and modern design with a concealed mounting or exterior brackets. All the lids (including a transparent Polycarbonate UL 94 HB option) feature a recess for mounting a large membrane keypad or product label.
There are internal screw pillars for PCBs, mounting plates or for enclosing DIN rails. There is also a quick action stainless steel locking screw. Options include concealed internal hinges and a security kit.
IN-BOX PCB enclosures are available in 16 sizes ranging from 84 x 82 x 55 mm to 302 x 232 x 110 mm. Prices start at £12.
Their standard colour is light grey (RAL 7035) but a huge range of custom colours is also available to special order.
Customising options for IN-BOX enclosures also include CNC milling and drilling, silk-screen and tampo printing of legends and logos, RFI shielding and assembly of components.
OKW Sales and Marketing Director Robert Cox said: "IN-BOX is the toughest range of enclosures that OKW has ever manufactured.
"Not only are they rated to IP66 and IP67 but they are also impact rated to cope with harsh industrial environments – perfect for really challenging applications.
"We are expecting IN-BOX to be very popular in both the electronics and electrical markets – that is why we have launched this new range with 16 sizes right from the start," he added.
Accessories include an internal mounting plate in insulating material; a wall mounting kit featuring four mounting blocks and screws; an interior hinge kit with two hinge mouldings and screws and a security kit with two mouldings and lead tags.
Features include:

Attractive modern industrial design for housing electronics equipment or electrical terminals and assemblies
Large range of 16 standard sizes
Solid or with a transparent lid
High impact resistance and protection class
Hidden mounting or with exterior brackets
Recess in lid for mounting a keypad or label
Internal screw pillars for PCBs, mounting plates or DIN rails
Quick action stainless steel locking screw
Optional internal hinges and security kit
Materials – ABS (UL 94 HB), ABS/Transparent PC (UL 94 HB), PC (UL 94 V-2)
Protection Class – IP66, IP67
Impact Strength – IK07 2 joule (ABS), IK08 5 joule (PC)
Standard Colour – Light grey, RAL 7035
Accessories – mounting plates, external mounting brackets, internal hinge, security kit, DIN rails (TH35 and TH15), mounting screw for PCBs, DIN rails.
Other wall mounted enclosures from OKW include:

ROBUST-BOX – universal sealed enclosures (IP66) which can be installed in a wide variety of locations including walls, bulkheads and machines
SMART-BOX – modern and attractive IP66 enclosures with a keypad area. Screws are hidden under hinged lid trims
DATEC-TERMINAL CASES – multi-variable IP54 housings with sloping fronts. They can also be used as desktop housings.
For more information about new IN-BOX housings from OKW, view the website or contact Sales and Marketing Director Robert Cox, +44 (0)1489 583858.
-Ends-
Notes For Editors
OKW ENCLOSURES LTD
15 Brunel Way
Segensworth East
Fareham
PO15 5TX
Tel: +44 (0)1489 583858
Fax: +44 (0)1489 583836