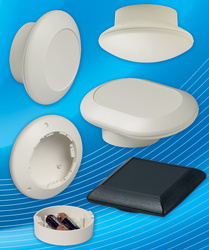 ART-CASE has always been incredibly popular, prompting us to extend the range every few years to meet growing demand.
(PRWeb UK) January 17, 2011
OKW has extended its range of highly versatile ART-CASE configurable plastic enclosures with the launch of four new rectangular housings.
Increased customer demand has prompted OKW to add the new S110 and E160 rectangular housings to its existing range of round and oval ART-CASE enclosures.
These ergonomic and highly tactile ABS enclosures have been designed to house the latest innovations in OEM and consumer electronics.
Typical applications include detection and monitoring devices, system controllers, home automation, medical and wellness equipment.
The new S110 and E160 rectangular plastic enclosures have external dimensions of 110mm x 110mm x 38mm and 160mm x 110mm x 38mm respectively. Both are also available with an integrated EURO specification plug according to DIN VDE 0620 part 101.
ART-CASE has been a major success story for OKW since its launch in May 2003. Its various sections enable designers to configure it into desktop, wall mount, ceiling mount, desktop and handheld enclosures.
They are particularly easy to use as wall mount enclosures thanks to an accessory kit which allows them to be installed without the need to open the case.
OKW Sales and Marketing Director Robert Cox said: "ART-CASE has always been incredibly popular, prompting us to extend the range every few years to meet growing demand.
"This year is no exception with the new rectangular housings opening up great new opportunities for designers."
All models in the ART-CASE range can be configured with a series of three different base sections, two of which are inclined at 30 degrees or 55 degrees. The other base section increases vertical height by 20mm, providing greater internal space for the electronics – especially useful for ceiling or wall mounted devices.
The bottom part and deep base will accept a battery compartment for two 1.5V AAA cells. Internal screw pillars are also provided for mounting the PCBs.
The top parts can be either domed or flat with a recess for a membrane keypad. This keypad feature – combined with the inclined base sections – has made ART-CASE particularly popular as desktop enclosures.
All parts are moulded in off-white or black ABS (UL 94 HB) with special colours available on request. Standard prices start at £9.
OKW can also supply ART-CASE enclosures with EMC shielding, additional holes for push-buttons, connectors and displays plus silk-screen printed legends or logos.
ART-CASE features:

unique round, oval and rectangular enclosures for indoor electronics
fast assembly with bayonet and/or screw fixing
huge range of possible combinations; order basic case plus lid or base section
top: flat with keypad recess or domed
bottom: 'level' or 'inclined'
base: low 30 degrees inclined or high 55 degrees inclined
deep base: for extra internal space and fitting two 1.5V AAA batteries
lids: screw fitted to the bottom
plug versions with integrated EURO plug according to DIN VDE 0620 part 101
internal mounting pillars for PCBs
ABS (UL 94 HB), ABS/PC (UL 94 V-0) - plug section
IP40 (not rated)
standard colours off-white (RAL 9002), black (RAL 9005), custom options available.
Accessories include a wall mounting set; battery cradle, contacts; bridge and clamp; anti-rotation device; cable strain relief and PCB screws.
OKW is at the forefront of the development of configurable plastic electronic enclosures with ranges such as ART-CASE and Interface-Terminal.
For more information about ART-CASE plastic enclosures, view OKW's website or contact Sales and Marketing Director Robert Cox, +44 (0)1489 583858.
###