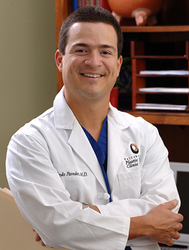 Long-standing practices are probably doing better than most in weathering the storm economically
Tallahassee, FL (Vocus) March 24, 2009
Serving as a pillar in the Tallahassee community for over 30 years, the Tallahassee Plastic Surgery Clinic has maintained a steady flow of customers despite the current economic turmoil. "Long-standing practices are probably doing better than most in weathering the storm economically," said Dr. Alfredo Paredes of the Clinic.
Similarly in Tallahassee, breast augmentation s remain the most popular cosmetic procedure. Since receiving FDA approval in 2006, silicone implant procedures have become well accepted by the public, as they constitute almost 50% of augmentation procedures. Furthermore, the ASAPS survey reveals that approximately 70% of patients would not be embarrassed if anyone outside the family knew they had cosmetic surgery
Given this public acceptance of cosmetic procedures and recognizing that Americans spent over $11.8 billion on cosmetic procedures in 2008, Dr. Paredes observed that "overall, despite the economy, patients still place great value on cosmetic procedures and self-esteem."
These facts demonstrate that despite the national decline in the number of nationwide cosmetic procedures, customers of well-established practices remain committed to aesthetic cosmetic surgery despite these difficult financial times.
The ASAPS data revealed that in 2008 the five most popular cosmetic procedures performed were Abdominoplasty, Rhinoplasty, Blepharoplasty, Liposuction and Breast Augmentation. Tallahassee Plastic Surgery Clinic found similar data.
The 2008 survey is the 12th survey on cosmetic surgery statistics released by the ASAPS since it's founding in 1967. The organization is considered to be the world's leading authority on cosmetic surgery education and research.
For further information on Tallahassee Plastic Surgery Clinic, visit TLHplasticsurgery.com.
###