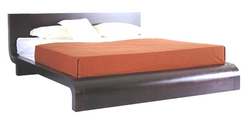 As Wholesale Furniture Brokers expands, we'll be looking for more styles like this to offer our customers.
Kansas City, KS (PRWEB) March 24, 2009
The new platform bed that is exclusively available to order from the Wholesale Furniture Brokers' websites is the Serenity platform bed. The bed features a modern design with a solid curved headboard and footboard that can only be found on the Wholesale Furniture Brokers' website. The matching nightstand, dresser, and chest are also exclusive and can be ordered with the platform bed. The furniture pieces in this bedroom set are constructed with MDF and wenge veneers, the same construction as many of their other top selling bedroom sets. The dark color and wenge texture of the furniture pieces add to the modern look. "This new platform bedroom set offers a stunning modern look that is very popular right now," says Matt Holmes, Marketing Manager of Wholesale Furniture Brokers. "As Wholesale Furniture Brokers expands, we'll be looking for more styles like this to offer our customers."
Furniture manufacturers and retailers are now forced to make better decisions to ensure they can survive the current economic conditions. More manufacturers are approaching retailers to sell their products. As more retailers add the manufacturers' products, consumers can comparison shop on more websites to find the best price, since an increased number of retailers are carrying the same products. Customers are now looking at the overall price and value they get from the retailer. Wholesale Furniture Brokers warns that the lowest price is not always the best value in a time when businesses have declared bankruptcy leaving their customers with unfulfilled orders. By maintaining zero debt, Wholesale Furniture Brokers ensures that customers always get their orders and manufacturers always get paid.
Recent trends for manufacturers and retailers is to offer closeout specials to give customers lower prices and reduce their inventory and costs for storing the additional items. When manufacturers offer closeout prices, they often discontinue the products to be able to stock more quantities of other products that sell better. Manufacturers available on the Wholesale Furniture Brokers' websites have offered closeout price lists that help lower the retail prices for consumers. Customers have responded by ordering more. Sales for Wholesale Furniture Brokers are expected to grow by 11% in March compared to February. Platform bed sales on the Wholesale Furniture Brokers' USA and Canada websites have significantly contributed to the overall increase in sales.
The factory that produces the Serenity bedroom furniture has been awarded ISO 14000 and ISO 9001 certificates. The ISO 14000 certificate ensures the manufacturer is following specific environmental friendly management procedures including identifying and controlling environmental impact of activities, improving the procedures to protect the environment, and creating objectives and targets to maintain sustainable practices. The ISO 9001 certificate shows this manufacturer produces products that meet the current consumer and industry standards and continually improve their production processes to meet the rising satisfaction demands of consumers.
The modern bedroom furniture pieces in the Serenity platform bedroom set are manufactured in a factory in China. Inspectors at the factory examine the furniture pieces after production and then package them in a carton box before shipping them to North America. Wholesale Furniture Brokers is ordering and stocking limited quantities of the Serenity platform bed and matching furniture pieces. Customers are encouraged to place orders before the shipment arrives to ensure availability of the products. "We expect the items to be sold before they actually arrive at our warehouse," says Matt. "We've ordered five queen beds and two king beds and expect them to arrive in just under two months."
Wholesale Furniture Brokers has added the Serenity platform bed under their True Contemporary brand name. True Contemporary is an exclusive brand to the Wholesale Furniture Brokers' websites. They offer customers a wide selection of contemporary and modern furniture for every room in a home. "We carefully select products to be added to the True Contemporary brand to ensure that our online customers get great quality products and the best value on the market," says Matt.
About Wholesale Furniture Brokers
Wholesale Furniture Brokers delivers direct from furniture manufacturers to the customers home everywhere in the USA and Canada. The price leading online furniture company offers customers world class support by telephone, email, and chat. Customers shopping online can find an increasing collection of furniture styles for inside and outside of the home at Wholesale Furniture Brokers. Furniture retail businesses and interior designers interested in ordering furniture available on GoWFB.com and GoWFB.ca including the Serenity platform bedroom set can apply for Wholesale Furniture Brokers' furniture dealer and vendor program.
# # #