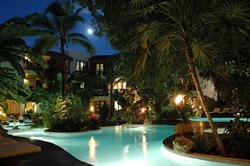 My friend has a rare talent for finding hidden hotels that are worth their weight in gold, La Tortuga Hotel was one of THE most memorable!
Beaumont, TX (PRWEB) November 17, 2010
La Tortuga Hotel and Spa, in Playa del Carmen in the Riviera Maya in Quintana Roo, Mexico, won its third prestigious industry award of the year this month when it was named 'Mexico's Leading Boutique Hotel' in the 2010 World Travel Awards. The boutique hotel was first nominated for the award in May 2010.
"The World Travel Awards has been around for 17 years and encourages world-class competition, stimulates the innovation and creativity of the company as well as ensures that a traveler receives an exceptional value," explains a hotel representative.
The awards have been described by the Wall Street Journal as the 'Oscars' of the international travel and tourism industries, unveiling who are the 'best of the best' in the region.
In January, La Tortuga was ranked in the top ten by TripAdvisor in its 2010 Travelers' Choice Awards for 'Best Service' in the Caribbean and Mexico. These choices are based on millions of unbiased reviews and opinions by vacationers on TripAdvisor.com.
The hotel received its second award in March when Expedia chose it as one of their 'Travel Select Hotels.'
"Expedia traveler's have ranked La Tortuga Hotel and Spa among the world's best hotels on this year's Expedia Insider' Select List. The list formally recognizes individual hotels worldwide that consistently deliver excellent service, a great overall experience and a notable value," says an Expedia representative.
The cozy, 51-room boutique hotel boasts its own in-house restaurant, 'El Bistro at La Tortuga,' an on-site Spa, 'Zen Eco Spa' and junior suites and honeymoon suites with private jacuzzis. Just minutes away visitors will find the famed 'Quinta Avenida,'the Fifth Avenue of the Riviera Maya, and just beyond that, stunning white sand and sparkling turquoise water beaches and beach clubs.
La Tortuga Hotel and Spa is well on its way towards establishing a solid position in the list of top shelf must-visit Playa del Carmen boutique hotels on the Riviera Maya.
###