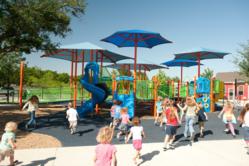 At the time most playgrounds used sand, which Dennis could not drive his wheelchair through
Round Rock, TX (PRWEB) June 18, 2012
Thanks to concerned citizens, engaged city council members, a benevolent construction company, and over 300 volunteers, Round Rock Texas now has a brand new inclusive playground that people of all ages and abilities can enjoy. It all started about 5 years ago when Kenneth Seymore struggled to find a place to take his son Dennis to play. Dennis Seymore was born with Arthrogryposis, a rare congenital disorder limiting his range of motion and muscle development. "At the time most playgrounds used sand, which Dennis could not drive his wheelchair through" says Seymore. "Some playgrounds used turf, but even those did not have any swings or play events for Dennis to play on." After a thorough search, Kenneth was unable to find any public playgrounds nearby his home that addressed Dennis' special needs.
Determined to find a way for Dennis to enjoy outdoor play, Kenneth began research on different types of play equipment that Dennis would be able to use, and came across a company offering a contest for a Boundless Playground Outdoor Grant. He began the application process, which required permission from the city of Round Rock along with approved land, and a written essay. The city of Round Rock quickly approved Kenneth's request and were very supportive of the idea.
Within his essay, Kenneth put special emphasis on the gap between families with children with disabilities and currently available recreation spaces, and explained how this playground would help bring the two together. Despite this earnest effort, they were not successful in winning the grant. However, by applying for this grant, Kenneth and Dennis had helped the city realize the importance of this project, and the City Council moved it to 'high priority' status in the Parks Master Plan.
Two years later, the Sunrise Rotary organization presented an idea to the city to have an adaptive swing installed for children with special needs. With this second request for inclusive play events, the city acknowledged the importance of developing a park plan that would provide children of ALL abilities the opportunity to play and develop skills in an engaging, outdoor environment. With this objective in mind, the City Council approved a portion of Rabb Park to be used for the Play for All park. $200,000 was allocated toward park construction to begin the project.
Several playground vendors submitted proposals for the actual playground structure, addressing component accessibility and appropriate surfacing requirements. The winning proposal was submitted by Play & Park Structures and implemented the best practices for creating universally designed playgrounds outlined in Me2, a playground design guidebook developed in partnership with Utah State University, Center for Persons with Disabilities and PlayCore. Me2 provides education and awareness of the 7 Principles of Inclusive Playground Design and the importance of creating usable play environments which recognize everyone's right to fully participate in equitable play. Through these guiding principles, the proposal fully addressed the needs of the whole child by intentionally addressing the physical, cognitive, communicative, social/emotional, and sensory needs of all children.
The Play for ALL Abilities project soon became a community wide effort with the city selecting an interdisciplinary team of parents, therapists, teachers, specialists in various fields, and city members to address the various goals and needs of the project to ensure the park offered meaningful play experiences for all.
The facility the community dreamed of was going to cost $1.3 million to complete. The city of Round Rock covered $600,000 of this expense with the rest of the funds coming from multiple donors. These included: Chasco Constructors, who donated their construction services to build the park, and over 300 people (kids, teenagers, and adults) who came out on volunteer day and donated their time and hard work to help in the construction of this playground. Several fundraising events were held, including story time at Barnes and Noble book store and the Winter Time Reindeer Run along with many others.
From the time Kenneth first presented his idea to the city, to the actual grand opening of the park in March of 2012, took almost 5 years. "Although Dennis loves having a portion of the playground named after him, he enjoys the entire park, especially the adaptive swing" says Seymore. The hard work and efforts of so many individuals and businesses paid off- strengthening the community through the power of play. Round Rock residents now have a playground that meets their mission of providing play for children of ALL abilities, their dream come true!
To receive a complimentary copy of the best practice guidebook, Me2: 7 Principles of Inclusive Playground Design please visit playandpark.com
About Play & Park Structures
Since 1976, Play & Park Structures, a PlayCore company based in Chattanooga, has provided high quality playground products that inspire children's imaginations and creativity through innovation and superior product design. Their colorful and innovative products are designed to engage a child's creativity and keep their attention while interacting with their peers in creative yet challenging environments. For more information visit: www .playandpark.com or call (800) 727-1907.
About Play for ALL Abilities Park
The mission of the park is to provide a safe, fun place to play and develop new skills for children of all abilities in Round Rock and surrounding areas. The Play for All Abilities Park will serve the more than 100,000 children of Williamson County with an estimated 7,945 children with a disability. The park is located at 151 North A.W. Grimes Blvd. For more information visit: http://www.roundrocktexas.gov/playforall