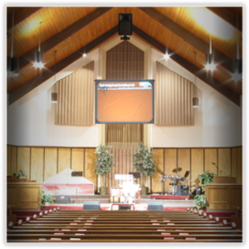 The Fairway Baptist Church in Wichita Falls is a vibrant family congregation with a diverse mix of believers from all ages and backgrounds
Wichita Falls, TX (PRWEB) March 21, 2013
In late January 2013, new playground equipment was installed at The Fairway Baptist Church in Wichita Falls. The new commercial grade play structure was acquired from American Parks Company in late 2012.
American Parks Company is a commercial playground equipment manufacturer and supplier based in Prosper Texas, a small little community 30 miles North of Dallas. American Parks Company offers nationwide sales and installation for all of their commercial play structures. American Parks Company's motto is "Building Better Parks For Children Of All Ages". They uphold this belief by offering a quality product line of not only commercial play structures, but also playground replacement parts, and exquisite site amenities. American Parks Company is a one-stop-shop for park and playground needs.
"We have a lot of new and exciting things going on right now. We are very close to a formal launch of a new sister brand APCPLAY," said Marc Parker, Vice President of Marketing – American Parks Company. "All in all, it has already been and incredible year for us. There seems to be a huge social push to help kids fight obesity by becoming more active. Our hot selling play structures this season all have a fitness theme that promotes both physical and cognitive play."
The decision for The Fairway Baptist Church to purchase from American Parks Company was an easy one. American Parks Company provided the best customer service throughout the entire purchase process. Their prices where considerably less expensive than there competitors, and the quality selection of their product line was what sealed the deal.
The Fairway Baptist Church in Wichita Falls is a vibrant family congregation with a diverse mix of believers from all ages and backgrounds. The worship music is contemporary. The dress is casual. The people are serious about learning God's Word, loving one another and sharing the hope of Christ with our world. The new play structure will perfectly compliment this wonderful congregation. The children of Fairway Baptist Church can look forward to many years of exciting and invigorating fun.
American Parks Company is a Prosper Texas based company that provides commercial grade park and playground equipment to municipalities, city parks, schools, churches, daycare facilities, and homeowner associations. Since 2004, American Parks Company has consistently provided high quality play structures at extremely affordable prices. American Parks Company is quickly becoming an industry leader in both the national sales and installation of commercial playground equipment. For more information on American Parks Company, please call 1-800-381-4491 or visit http://www.AmericanParksCompany.com.